$27.95
Maxcore iPower Battery
Introducing the Maxcore iPower, an oil cartridge battery. Features include:
Long-lasting 650mAh Battery Capacity
Three Voltage Settings: 3.4v / 3.8v / 4.2v

 

Preheat Setting: 2.9v
Raised button with LED indicator (easier to locate and press)
Magnetic Adaptor for Universal 510 thread connection
Aluminum Alloy housing
Micro-USB charging
Recommend Cartridges: Maxcore E/EP/PF/G/BP Series
used for: oil
Maxcore iPower Battery
Have you been looking for a more unique and discreet way to enjoy your favorite vape oils? Introducing the compact and sleek Maxcore iPower Battery. This specially designed, rechargeable oil cartridge battery fits in the palm of your hand—but don't let its size fool you.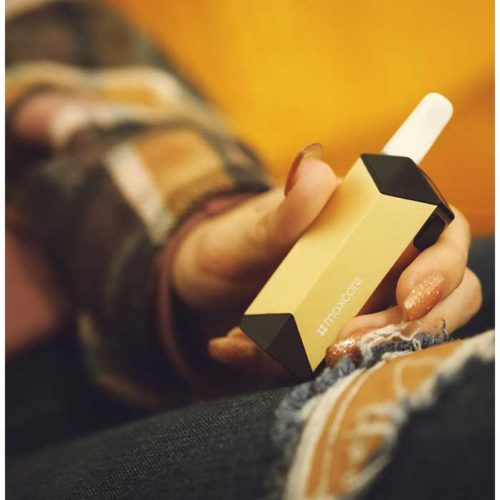 The powerful 650mAh, variable voltage rechargeable battery packs a punch, allowing you to customize your vape experience with three heat settings. The Maxcore iPower offers all the luxury of other similar battery size but with a more innovative look. The discreet digital LED indicator screen helps display what setting you're currently on. 
Customers love the simple design, subtle variable button, and compact size. It's important to note that Maxcore didn't compromise on materials or performance to achieve this tiny but powerful performer.
Features of Maxcore iPower
5 Clicks On/Off
2 Clicks Preheat Activation
3 Clicks Voltage Change (low, medium, high)
1 Click Battery Capacity Check
Button Activated
Battery Capacity: 650 mAh
Aluminum Alloy Housing
Universal 510 Thread
Micro-USB Rechargeable
Revolutionary Production
Maxcore, the oil vape brand of Deep Union is the second largest manufacturer in the world. Manufacturing matters to us and should matter to you. Safety in performance and materials is a crucial principle of the Maxcore Brand. When your Maxcore iPower arrives, you can be confident you're getting a top-notch product. 
What's in the box?
The package includes:
1x Maxcore iPower Battery
2x Magnet Adapter
1x Micro USB Charger
Why Choose Maxcore iPower
The iPower is the definition of convenience and discretion. Aside from the ease of use and beautiful design, there are several reasons people choose this battery, such as:
The Maxcore iPower features a tough and durable aluminum alloy housing, available in four different colors. Whatever your preference, you'll find something you're sure to like.
The brushed finish means it is fingerprint resistant, unlike its glossy counterparts.
There is a small LED display screen indicator to show what variable setting you are using.
The iPower battery is a low-maintenance and long-lasting purchase.
It's easy to attach any standard 510 thread oil cartridge with a simple magnetic adapter.
Except for the oil cartridge, everything you need is included with this battery, even a micro-USB charging cable.
Includes all retail packaging and ships out within 24 hours!
If you're looking for a battery that will fit seamlessly and effortlessly into your daily routine, the iPower is right for you.
Charging the iPower
You can charge the iPower with any micro-USB cable, but we include a small over-charge protection cable for your convenience. Once fully charged, most users experience about a weeks' worth of use before needing to recharge the iPower battery.
Oil Cartridges
The included magnetic adapter makes this battery compatible with a variety of oil cartridges of the universal 510 thread standard, giving you endless options. However, the iPower is optimized to pair with the Maxcore cartridges, taking into consideration both battery output and cartridge resistance. The best cartridges to use with your iPower are the reusable Maxcore E-Series and EP-Series  or the single use Maxcore PF-Series, all offered by VPM.com. The patented ceramic heating element in the these cartridges combined with the power of their batteries produces a premium experience.
How to Use the Maxcore iPower Battery
All you need is a cartridge, and you're ready to begin.
Even though your iPower will come with a partial charge, you'll want to plug it in before the first use to make sure the battery is conditioned.
Then, once you've chosen your cartridge and filled it with your oil of choice, simply screw a magnetic adapter onto the end and drop it into place in your battery.
Turn your battery on with 5 rapid clicks of the button. Once on, use 2 clicks to activate the preheat setting. To change voltages, use 3 gentle clicks.
Choose what heat setting you want to enjoy depending on your oil and the effect you're going for.
Finally, just inhale and enjoy!
If you want more information on Maxcore or the products we offer, feel free to reach out to us. Customer service is a main priority at VPM, and we are here to help you in any way we can. We confidently guarantee happiness and satisfaction to all of our customers!
1
COMPATIBILITY GUARANTEED
The parts that fit. Not the parts that quit.
2
YOUR HAPPINESS GUARANTEED
Clouds out of your mouth not your ears
3
SHIPPING EVERYDAY BUT SUNDAY
Processed within 24 hours. Shippity-doo-dah!
4
TRACKING SENT TO YOUR EMAIL
That's just good manners.
5
DISCRETE SHIPPING AND BILLING
Mind your business nosey neighbors.
6
INTERNATIONAL SHIPPING
Because why shouldn't we?