Yocan Uni Pro Oil Cartridge Battery
Yocan is an industry leader in vaporizer technology.  The box style vape battery is becoming one one the most popular vape battery available.  The Yocan Uni Pro Battery is the most updated universal box style battery on the market.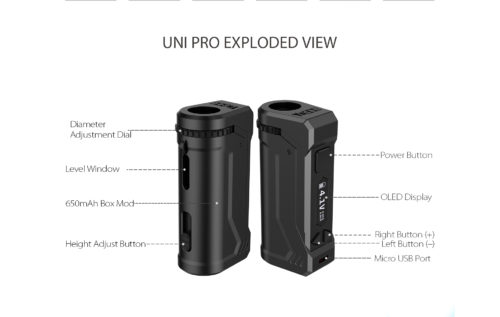 Oil Cartridge Height Adjustment
There are several sizes available when choosing your replacement oil cartridge. Some of the most popular sizes are .3ml, .5ml, and 1ml, because of this Yocan has created a slider that will allow you to bring your cartridge up or down in side the unit so you always have the perfect height sticking out from the top.
Adjustable Holder For Different Diameters
Just as the cartridges have various storage capacities available they also come in different diameters.    Oil cartridge manufactures all have their own proprietary sizes but will range from 9mm to 12mm.  By twisting the top part of the battery the opening of the hole will get smaller and will grab the cartridge to provide a secure hold.
Pre-Heat Function
The Yocan Uni Pro oil cartridge battery is equipped with a 10 second pre-heat feature.  Why is this important?  Because oils come in a variety of viscosities and if you are using a thicker oil the average vape battery will not be able to provide proper power to turn your oil to vapor.  Therefore activating the pre-heat feature the battery will slightly heat and thin your oil allowing the coils to properly absorb and vaporize the oil.
The Uni Pro also has a 15-second shut-off feature for the safety of you and your battery.
Along with the pre-heat feature the Yocan Uni Pro battery has variable voltage. Having a variable voltage battery will allow you to choose how much power to send to your cartridge, which will affect how much vapor you can produce. The Uni Pro's newest voltage settings allows you to set your battery at exact voltage you desire. If you use thicker oil or want a more powerful hit you will be able to select a higher voltage.  Lower voltage settings are perfect for thinner oils or users looking for a softer hit.
510 Magnetic Thread Adapter
Included with each battery kit is the Yocan Uni 510 thread magnetic adapter.  Using this adapter you will be able to use the Uni with any 510 thread cartridge.  The magnetic adapter allows you to easy switch between cartridges. If you are looking for a great cartridge we highly recommend the CCell TH2 Oil Cartridge.
Additional Features
The side of the Uni has a view port allowing you to see exactly how much oil is left in your cartridge. The new OLED display allows you to see when your battery is on, along with the voltage you have selected. Charging is performed using the provided micro USB cable.  The Yocan Uni changes is as little as two hours using a standard USB port.  Your choice of 4 different colors: Black, White, Red, and Blue
OLED Screen Display