DESCRIPTION
Boundless Vape Kits and Coils including the Terp Pen and Terp Pen XL dip-style vape pens for wax.
Showing all 4 results
---

---
What is a Terp Pen?
The Boundless Terp Pen and Terp Pen XL are premium yet affordable vape pens for use with waxy concentrates. The Terp Pens are designed to be used in a similar fashion to a "Honey Straw" or "E-Nectar Collector" in which the user inhales through the top (mouthpiece) of the device to activate the heating element (coil) on the opposite end. When a dab of concentrate comes in contact with the coil while the user is inhaling, the dab will instantaneously vaporize.
The Terp Pen and Terp Pen XL vaporizers are among the most affordable, efficient, and convenient devices for concentrate consumption.
Terp Pen vs Terp Pen XL
The original Terp Pen will pack more than enough punch for the average consumer, but the for those looking to drop the extra cash for a few extra features it may be worth considering the Terp Pen XL for its larger battery capacity, viable heat settings, longer air path (cooler vapor), and integrated dab storage jar.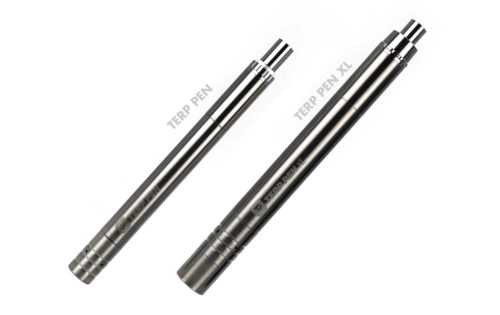 Terp Pen
 

Terp Pen XL

Coil Cap :  
 Removable Coil Cap
 Removable cap with glass storage jar
Battery Indicator :  
 No Indicator
 LED Indicator
Battery Capacity :  
 300 mAh
 700 mAh
Coil Size :  
 Smaller Coils
 Coils are stronger & Larger
Voltage :  
 3.7 V
 Variable Voltage 3.3v – 3.7v – 4.0v