$29.95
Price Check
Boundless Terp Pen
The Boundless Terp Pen is one of the simplest and most affordable ways to consume your favorite waxy concentrates. Simply remove the magnetic cap, then dip the coil into your favorite waxy concentrate while inhaling to produce instantaneous and tasty vapor. The Terp Pen features:
Instant heat up
Buttonless, inhale activation (touch coil to dab and inhale)
Small, lightweight, and ultra discreet
300mAh Lithium Ion Battery
Easy to replace and affordable replacement coils
All parts can be easily disassembled for cleaning
used for: wax
Boundless Terp Pen
The Boundless Terp Pen (original, non-XL version) is one of the most affordable, easiest, quickest, and most discreet ways to dab your favorite waxy concentrates.
The Terp Pen provides full flavor profiles with open airflow and clean coil design using only the best ceramic for a clean and flavorful hit every time.
The Terp Pen Features:
Ability to fit perfectly into most 10mm water pieces
Inhale Activated
Replaceable Terp Pen coils
Portable E-Nectar Collector
The Boundless Technology Terp Pen is beautifully constructed with medical-grade steel and offers an unparalleled smoking experience. At under $30, the Terp Pen is one of the most affordable ways to dab your concentrates. Additionally, this mini Electronic Nectar Collector features removable and replaceable parts, including wax replacement coils that can be quickly and conveniently replaced as needed.
Whether you are new to vaping concentrate or you are an experienced dabber, the Boundless Terp Pen is perfect device for your collection. Using the Terp Pen is as easy as one, two, three:
Remove Cap
Inhale to heat coil
Apply Concentrate
This device really is that easy, and with simple to replace coils you will never have a difficult time getting nice full flavorful concentrate hits.
What's in the box?
1 Boundless Technology Terp Pen
1 Ceramic Coil
1 Boundless Technology Terp Pen cap
1 Dab scraper tool
1 Boundless Technology cleaning brush
1 USB-C charging cable
1 Quick Start Guide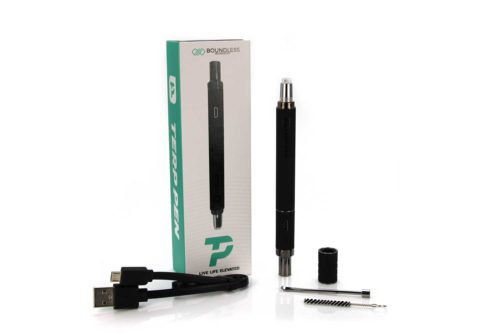 1
COMPATIBILITY GUARANTEED
The parts that fit. Not the parts that quit.
2
YOUR HAPPINESS GUARANTEED
Clouds out of your mouth not your ears
3
SHIPPING EVERYDAY BUT SUNDAY
Processed within 24 hours. Shippity-doo-dah!
4
TRACKING SENT TO YOUR EMAIL
That's just good manners.
5
DISCRETE SHIPPING AND BILLING
Mind your business nosey neighbors.
6
INTERNATIONAL SHIPPING
Because why shouldn't we?