$49.00
Price Check
$59.00
Vessel Compass+ Battery
Introducing the "Compass" Oil Cartridge Battery by Vessel Brand. A compact device with a high-capacity battery, The Compass is exceptional in both its design and performance. These are the newest + (plus) models, which can accommodate nearly any cartridge in the marketplace.
Fits all standard oil cartridges
Beautiful & unique design
Powerful 550mAh lithium-ion battery
Adjustable voltage (2.4v, 2.8v, 3.2v, 3.6v)
Button activated (uses a large, easy to locate button)
Universal threading for all oil cartridges (up to 11.5mm diameter)
Cartridge screws in (no magnetic adapter needed)
6 Month Warranty, Ships within 24 hours
Need a case with the battery? Check out the Compass "Scout" Case
used for: oil
Compass Battery by Vessel
The Compass by Vessel is beautifully elegant, both visually and in its performance. We find it to be in a class of its own! From the unique styling to its unparalleled usability, the Vessel is the perfect combination of form and function, separating it from most vape batteries in the market. This new + size version can now fit essentially any cartridge in the marketplace because it accommodates 11.5mm cartridges while the prior models fit only up to 10.8mm cartridges. The Vessel Compass is only compatible with 1.0ML cartridges.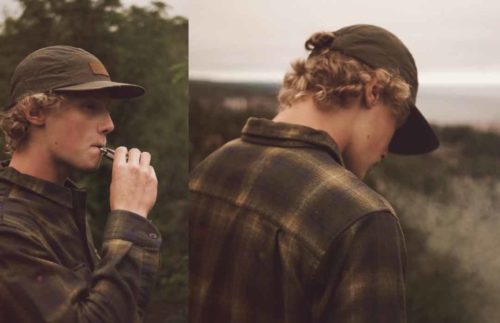 Power Beyond Its Size
The Compass by Vessel is powered by a premium 550mAh battery for long-term use between charging.
The Vessel features three different power settings:
-Low (2.4v, Green) for the perfect flavor profile
-Medium Low (2.8v, Blue) for good flavor with a kick.
-Medium High (3.2v, Yellow) for hard-hitting puffs with good taste
-High (3.6v, Red) for the one-hit-wonder
The Vessel's unique auto shut off/overuse function helps maintain battery integrity and the lifespan of your device. The battery will automatically power off after fifteen minutes of inactivity.
Vessel batteries are uniquely designed to deliver an unrestricted airflow, providing you with better tasting experience.
Available for separate purchase is the Vessel Compass Ridge Charging dock, which can be a perfect, stylish addition to your nightstand.
The Scout Carrying Case is also available for separate purchase. Designed specifically for the Compass Battery, it makes traveling convenient while protecting both your battery and your stash.
*Fits most standard oil cartridges. A standard oil cartridge is a cartridge that is 12mm or less in diameter.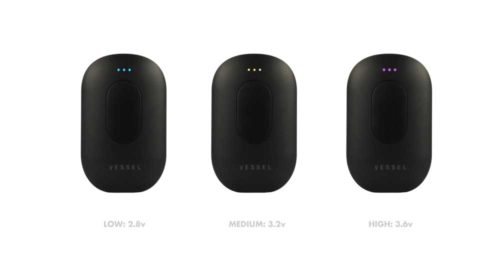 What's in the box?
Compass battery device
Micro USB charging cable
Quick start user guide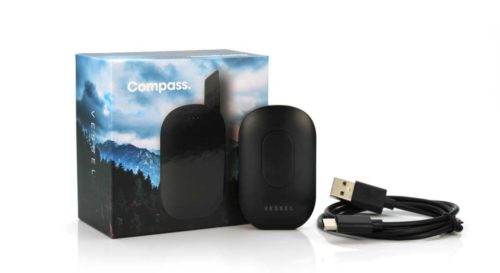 In the words of Journalist & AACE Founder, Ophelia Chong, the Compass is "like holding a Porsche in my hand."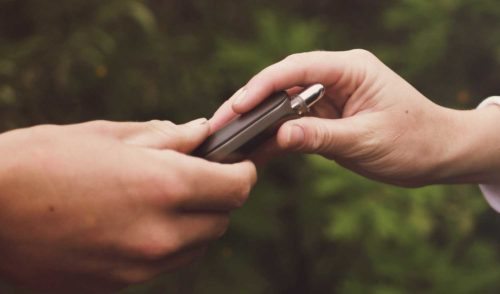 For any questions, concerns, or comments, contact us at VPM.com, and we'd be more than happy to help! Your satisfaction is our priority.
1
COMPATIBILITY GUARANTEED
The parts that fit. Not the parts that quit.
2
YOUR HAPPINESS GUARANTEED
Clouds out of your mouth not your ears
3
SHIPPING EVERYDAY BUT SUNDAY
Processed within 24 hours. Shippity-doo-dah!
4
TRACKING SENT TO YOUR EMAIL
That's just good manners.
5
DISCRETE SHIPPING AND BILLING
Mind your business nosey neighbors.
6
INTERNATIONAL SHIPPING
Because why shouldn't we?
Vessel Compass+ Battery FAQs
What type of charger does the Vessel Compass use?
The Compass has a USB-C charging port
How many volts and mAh is the Compass Battery?
The Compass has four voltage settings- 2.4v (green), 2.8v, (cyan blue), 3.2 (yellow), and 3.6 (magenta) and is 550 mAh.
Does the Compass require a magnetic adapter?
No. Cartridges are screwed directly into the Compass battery so no adapter is needed
Does the Compass stand on its own?
No. The Compass will not stand on its own. However,
The Ridge Charging Dock
can be purchased separately and will keep your Compass upright.
What if something goes wrong?
The Vessel Compass has a 6 month warranty through VPM. You can reach out to us
here
.