Linx Hermes 3 Oil Vape Pen Kit
The Linx Hermes 3 Oil Vaporizer combines sleek design, portability and pure flavor free of plastics and paints for an unparalleled vapor experience. The Hermes 3 works well with a wide variety of oil viscosities, including very thick oil. To fill, unscrew the mouthpiece to access the tank and fill with a syringe. 
The Hermes 3 is one of the smallest pens in the market. The Hermes 3 measures at 110.3mm (4.34 inch) in length and 10.5 (0.41 inch) in diameter that can easily fit in the palm of your hand.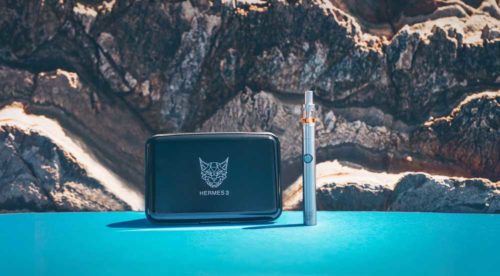 Stylish Design
The Hermes 3 boasts a ceramic heating element, replacing the traditional coiled atomizer. Combined with stainless steel shell, the sleek device delivers powerful clouds free of harmful chemicals.
The Line Hermes 3 oil vaporizer is incredibly easy to fill and use.  The class atomizer and mouthpiece easily come apart making it extremely simple to fill with your favorite concentrates.
Specifications
Battery – Lithium-ion battery recharges in 1 – 2 hours via USB. 290 mAh.
Cartridge – Ceramic atomizer with glass tank. Kit includes a 0.5ML cartridge. 1.0ML can be purchases separately. The atomizer is positioned at the absolute bottom of the tank, allowing for minimal waste.
Material – Ceramic heating element, glass tank, stainless steel shell and mouthpiece.  Vapor path is constructed entirely from medical grade components.
Dimensions – 10.5 mm (Diameter) x 110.3 mm (Length)
Weight – 26g
Battery Voltage – 3.0v – 4.2v. Three temp settings (3 clicks to change voltage)
What's Included
Included is the Linx Hermes 3 Oil Vaporizer Battery, Hermes atomizer with mouthpiece, USB Charger, Sleek carrying case.  The included carrying case has custom foam cutouts to perfectly conform to your new vaporizer.  This is the only full kit vaporizer that we sell at VPM.  There are many kits available on the market but we feel the Links Hermes is one of the best pen style vaporizers available.  The Hermes 3 Oil Cartridge is available separately.