From $24.95
Price Check
CCell Palm Battery
Our Authentic CCell Palm battery is the easiest and most discrete way to enjoy your oils. Other than the cartridge of your choosing, this is everything you need. Simply slide in an oil cartridge such as the CCell TH2.
550mAh, 3.7v Li-ion rechargeable battery (charger included)
Buttonless inhale activation
Easy loading magnetic connection for all vape cartridges (2x magnet adapters included)
Durable Aluminum Alloy housing
Includes Retail Packaging as pictured, ships within 24 hours.
CCell Palm 510 Thread Oil Cartridge Battery
Have you been looking for a better, easier way to enjoy your favorite vape oils? The next generation of batteries are here! Introducing the beautifully simple, versatile and discreet CCell Palm Battery. This intuitively designed, rechargeable oil cartridge battery fits in the palm of your hand—but don't let its size fool you.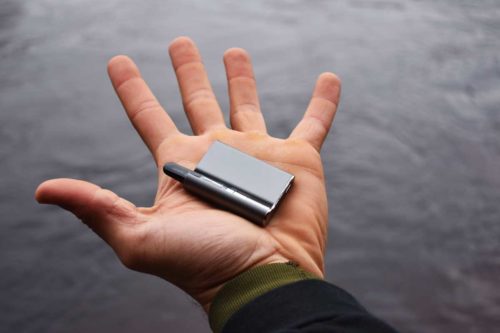 The 550mAh, 3.7v Li-ion rechargeable battery packs a punch, allowing you to enjoy your oil in mere seconds. Simply drop your cartridge into the groove until the battery magnetically connects at the base. After that, just start inhaling; it's literally that easy. CCell is the perfect choice every time, whether you're vaping at home or out and about.
The CCell Palm turns on when you start to inhale. Unlike some oil cartridge batteries, you don't need to hold down any buttons while you vape
Extremely easy to load; just attach the magnetic bottom to your oil cartridge and drop in. Immediately ready for use—no need to wait
Versatile design connects to most typical vape cartridge sizes
Made of durable aluminum alloy; pop in your pocket or bag and bring it anywhere without worry
Recommended palm vape cartridges include the CCell M6T (single use only) or CCell TH2 (refillable)
Rechargeable; your charging cable is included with the battery
Includes all retail packaging and ships out within 24 hours!
The CCell Palm battery that we sell here at Vape Parts Mart is authentic CCell. The CCell Palm Battery is compatible with a wide variety of oil cartridges, including CCell's own TH2 oil atomizer cartridge.
Revolutionary CCell Palm Battery
The CCell Palm battery is revolutionizing the way that we think about portable vaporizers. It's small and compact, easy to use, and compatible with almost all cartridges. You will find the Palm has been a popular choice for vape users and vape critics alike as a result of Ccell's quest for excellence. For more details about the Palm, or for CCell Palm Distribution, you can visit the 3Win Corp certified distributor website.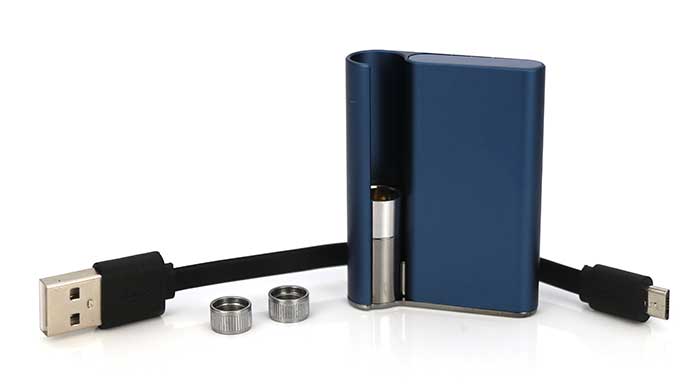 What's in the box?
The Package includes:
1x CCell Palm Battery
2x Magnet Adapter
1x Micro USB Charger
Charging The CCell Palm
Are you wondering how to charge your CCell Palm? Here's the guidelines from the manufacturer:
The CCell Palm will reach a full charge in about 1 Hour.
Here's what the LED light indicators signify:
Low/Dead Battery – LED indicator blinks 10 TIMES, the goes off. Palm stops working.
Charging – LED Indicator is on continuously
Fully Charged – LED indicator blinks 20 times and goes off.
While the Palm is charging, the small LED at the top of the device will light up and remain lit. Once the device reaches a full charge, the LED will flash 20 times and then turn off. If the device is plugged into an active USB port or wall adapter and the light is not lit, it has a full charge.
The CCell Palm Battery vaporizer comes with a partial charge out of the box but we recommend fully charging it before use. To charge the Palm vape battery all you need to do is plug it into a power source using a micro usb charging cable. You can charge the Palm battery with any Micro USB cable however we include a small cable for your convenience.  Most Android cell phones use this type of charger so chances are that you have one somewhere around the house. It takes right about an hour and a half to fully charge the CCell Palm battery. Once fully charged most users experience about a week worth of use before needing to recharge the CCell battery.
So Small it Fits in Your Palm
The first thing that you notice when you open your new CCell Palm vape pen box is just how small the Palm really is. The dimensions are approximately 1/3 inch thick, 2 inches tall and 1.7 inches wide.   Once you install a cartridge, the mouthpiece will stick up about ½ to 1 inch, depending on the capacity and style of the cartridge that you use.  Pun intended, the Palm is literally designed to fit in the palm of your hand, therefore making it perfect for on the go vaping.
CCell Palm Vaporizer Color Options
You have six color options to choose from when you buy a new Palm vape pen. Those color are: blue, black, gray, gold, and rose gold (pink).  Hate smudgy finger prints? One really nice feature about the color finish on the CCell Palm battery is that it's made from brushed aluminum, which makes it fingerprint resistant. The CCell battery won't get all smudged up like many of its glossy counterparts. In late 2018, the Rainbow CCell Palm was released as another very unique color option.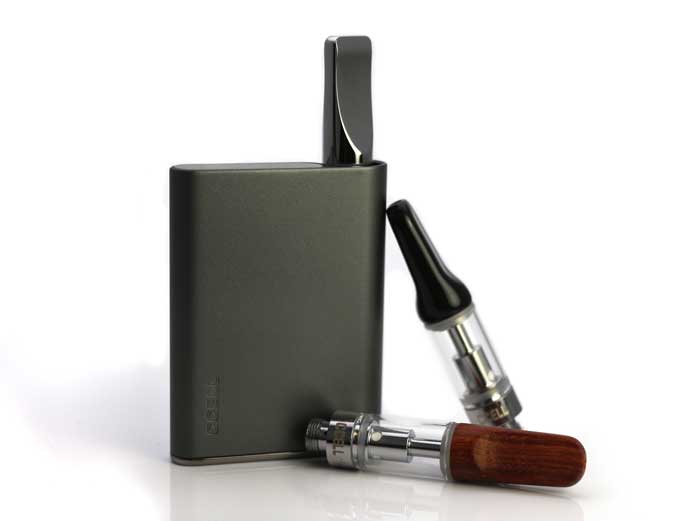 CCell Cartridge Installation Instructions
CCell cartridges are recommended for use in the CCell Palm Battery, however, you can use almost any cartridge out there and it will work just fine. When you buy CCell vape pen kits new they come with two magnetic adapters. These CCell Palm magnetic adapters have the universal 510 thread pattern. This means that you can screw the adapter on to any universal 510 threaded oil cartridge. Nearly all of the vape atomizer cartridges that are made today use this industry standard 510 threading. Once you have screwed the adapter onto your cartridge simply slide it into the slot on the Ccell vape battery and it will magnetically snap into place. When you want to remove the used up CCell cartridge pull directly up on the mouthpiece and it will easy slide out.
Who Makes the CCell Palm Vape Pen?
The company behind the revolutionary CCell vape pen ThB207 is Smoore Technology. Smoore is without a doubt the industry leader in professional vaporizer manufacturing. They have the best facilities that use the latest tech to make top quality vape products such as cartridges and batteries like the Palm and new CCell Silo. They hold nearly 20 patents and are constantly innovating in the vaporizer industry.
CCell Palm Reviews
You don't have to take our word for it. There are many CCell Palm review options for you to check out. Here on VapePartsMart.com we have a section where customers can leave a CCell Palm review after making their purchase. There are also a number of CCell Palm reviews on Youtube that you can watch. No matter where you look you will find that most people who provide CCell Palm reviews for the THB207 are very happy with the product. The Palm is one of the world's first Square Vape Batteries therefore many copycats have been created.
CCell Palm Specs
Check out the table below to lear about all about the technical CCell Palm Specs. The Palm is 550mAh and 3.7 Volts
Main Item
Details
Description
Comments
  Battery
Battery Cell:
  550mAh / 3.7V
EVE552343
Charging Time:
About 1.5 hours
550mA | 4.1~4.25V | 50mA The constant current is about 500mA when it is charging. Charging stops when it is charged up to 4.2V with a 50mA cutoff current
Cycle Life:
300 Cycles
4.2V | 300mA | 3.0V | 30 The Battery was charged to 4.2V, then discharged to 3.0V in 300mA at intervals of 30 minutes.
Output Voltage:
3.30~3. 50Vrms
4.0V | 1.25-1.5Ω With resistance of 1.25-1.5Ω when fully charged.
3.20~3.50Vrms
3.7V | 1.25-1.5Ω With resistance of 1.25-1.5Ω, without a full charge.
Low Voltage Protection:
3.3V
LED flashes 10 times and output cut-off.
Auto Shut Off:
≥10+/-20% ≥10 seconds
LED output cut-off.
Output Short-Circuit Protection:
0.5Ω
LED lights on 2s and cut off.
Standby Current:
≤10uA
Charger
USB 5V,1000mA
Weight
43.7g
Temp and Humidity
Operating:
  -10~+60℃
10%~90%
Storage:
-10~+45℃
30%~90%
Dimensions
Height:
55MM
2.17 Inches
Depth:
9MM
0.35 Inches
Length:
42MM
1.65 Inches
1
COMPATIBILITY GUARANTEED
The parts that fit. Not the parts that quit.
2
YOUR HAPPINESS GUARANTEED
Clouds out of your mouth not your ears
3
USA DELIVERY 2-4 BUSINESS DAYS
We trust the best to deliver on time.
4
TRACKING SENT TO YOUR EMAIL
That's just good manners.
5
DISCRETE SHIPPING AND BILLING
Mind your business nosey neighbors.
6
INTERNATIONAL SHIPPING
Because why shouldn't we?
7
SHIPPING EVERYDAY BUT SUNDAY
Rest on Sunday and all that jazz right?