$29.95
Price Check
CCell Luster
In Stock! We'll ship within 24 hours
Simple yet elegant, the CCell Luster Oil Vape Pen provides smooth and flavorful vapor production. The Luster's Zinc Alloy housing gives the device a premium look as well as substantial weight, making it truly stand out in terms of a feeling of quality over its rivals.
The Luster Kit includes:
1.0 ML Capacity Luster Oil Pod (single use disposable)
350mAh Lithium-ion Rechargeable Battery
Premium finish, Zinc Alloy Battery housing
Easy to fill pod with Magnetic Pod Connection
Inhale Activation
Includes retail packaging as pictured
Additional Luster Pods are available for separate purchase in 0.5 and 1.0 ML Capacities.
used for: oil
CCell Luster
Named after the brilliance and shine it produces, the CCell Luster will brighten up your life! The Luster is small and thin, making it extra portable and discreet, and it has a glossy shine provided by its durable Zinc Alloy case. The Luster vape uses the CCell Luster pod system, which gives you the ability to fill the 0.5ml or 1.0ml pods with your favorite oil concentrate for unique flavor.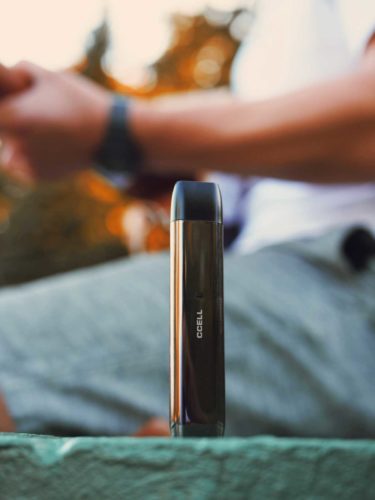 The Luster pod has an integrated mouthpiece that you just drop into the Luster, and you are ready to inhale. VPM opinion: The Luster's Zinc Alloy housing gives the device substantial weight, making it truly stand out in terms of quality over other Pod-Style Vape Pens
Features of the CCell Luster:
350 mAh battery capacity

Minimalist design with gleaming finish

Uses CCell Luster pods, available in 0.5ml and 1.0ml 

Dimensions: 11 * 20.9 * 82.9 mm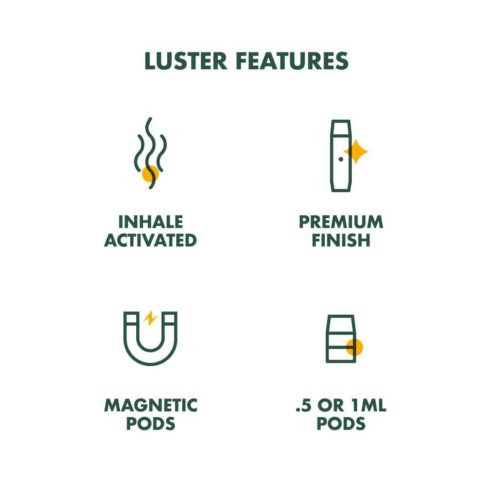 How to Fill and Assemble Your Luster Pod
The CCell Luster is very easy to fill. The pod has ample room for a syringe needle to fit inside to be filled.
Insert a filling needle into the space between the airway and the outer wall of the pod. Hold the pod upright and fill both sides next to the airway with oil. Split the oil in half on each side of the airway (0.25 ml each side for 0.5ml pods; 0.5ml for 1.0ml pods).

Immediately after filling, insert and press the top cap piece vertically until it is fully sealed. Be sure to cap it right away or it will cause leakage. 

Push the filled pod into the mouthpiece until you hear a click sound.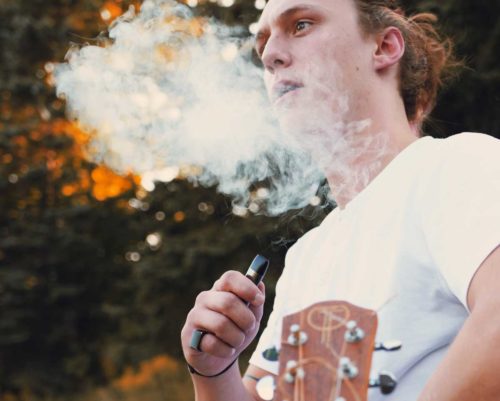 Compatible Units – Butterfly Effect Vape
We have been receiving frequent questions in the form of "Does the CCell Luster work with the Butterfly Effect vape battery and pod?". The answer is yes, the CCell Luster and Butterfly Effect vape are the same product and therefore have interchangeable parts.
If you'd have any questions about the CCell Luster or any device in the CCell Vape lineup, feel free to reach out to us any time!
1
COMPATIBILITY GUARANTEED
The parts that fit. Not the parts that quit.
2
YOUR HAPPINESS GUARANTEED
Clouds out of your mouth not your ears
3
SHIPPING EVERYDAY BUT SUNDAY
Processed within 24 hours. Shippity-doo-dah!
4
TRACKING SENT TO YOUR EMAIL
That's just good manners.
5
DISCRETE SHIPPING AND BILLING
Mind your business nosey neighbors.
6
INTERNATIONAL SHIPPING
Because why shouldn't we?