Luer Lock Oil Syringe
You can enjoy quick and easy refills for your vape cartridges with this user-friendly Luer Lock Oil Syringe (comes empty, oil not included). Made with special glass that is resistant to thermal shock or shattering, this vape cartridge filling syringe is safe and suitable for users at any level of experience. Liquid measurements are clearly labeled on the tube from 0.2 milliliters to 1 milliliter and the extraction needle is of appropriate craft quality with a blunt end—below medical grade for piercing—and suitable for precisely pulling out and filling most quality oils on the market. In fact, the wide diameter of this particular nozzle works well with even the stickiest, thickest and most viscous liquids as desired. For added convenience, this Luer Lock Oil Syringe is simple to take apart and join back together, which allows for a thorough cleaning between every use or between shifts in your oil preference. Directly put, with this top-of-the-line tool, compromising flavor, texture, cleanliness or simplicity is not ever a concern.
14 Gauge blunt tipped needle included
Easy to keep clean after every use
Measurement labels are from 0.2 milliliters to 1.0 milliliter
Best for filling oil cartridges with most marketed oil fills
Simple to take apart and put back together
Borosilicate glass that is resistant to thermal shocks and breaks
Our Luer Lock Oil Syringe is perfect for filling your oil cartridges. It comes empty and features measurement markings ranging from 0.2ml to 1.0ml. The syringe also comes with a blunt tip 14 gauge needled.  The tip of the needle is 1/2″ making it the perfect to for extraction or filling.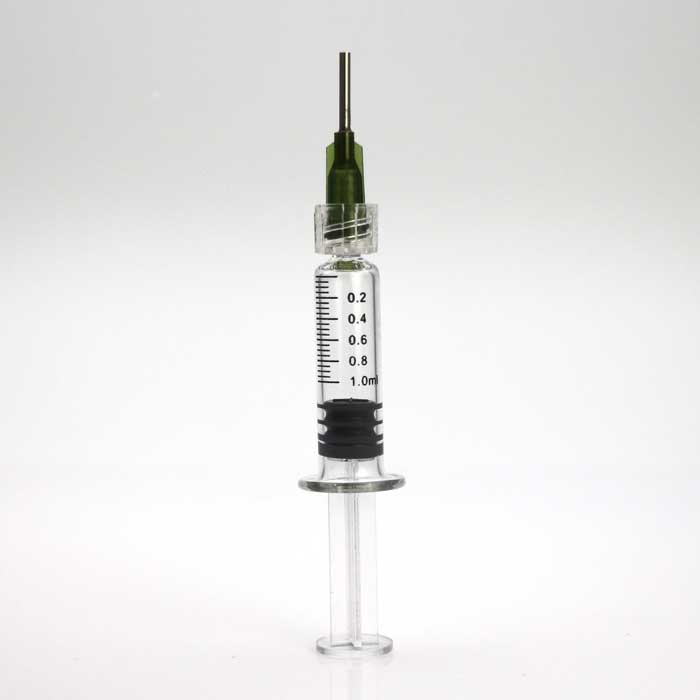 Compatibility – Fill your cartridge with this oil cartridge filler
The empty Luer Lock Oil Syringe is capable of filling nearly any standard cartridge such as the CCell EVO TH2 Cartridge.  These re-fillable cartridges typically have a removable mouthpiece so you can add the oil.  There are some single use cartridges such as the Jupiter L9 cartridge that cannot be filled using a blunt tipped needle and require a sharp tipped needle.