Vista Edge+ Oil Cartridge Battery by Vessel Brand
From its older brother, the Vessel Brand battery comes the newest iteration in luxury stick batteries. The Vessel Vista Edge Plus is a beautifully sleek and powerful vape pen battery that comes in 5 stunning variations and works with all oil cartridges.
Vessel Vista Edge+ Charging and Battery Information
With a new premium 320 mAh battery, magnetic charging port, and optimized air intakes, the Vista Edge+ offers everything you have come to expect from a luxury stick battery & more.
Four power settings:
(Green=2.4V, Blue=2.8V, Yellow=3.2V, Purple=3.6V)
The Vista Edge+ can be charged with the included magnetic charger and can also charge via the optional Base Charging Dock. Additional magnetic Vista Edge+ chargers are available for sale. The Vista Edge is also fully compatible with the Rover Carrying Case.
The LED lights will flash red when the Vessel Edge+ is charging; you will know the vape is fully charged when all of the LEDs are off.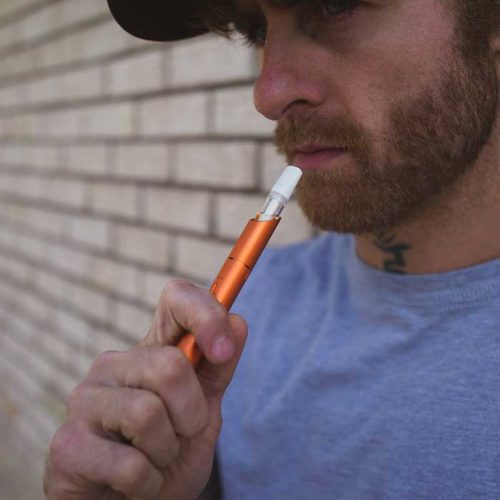 How to use the Vessel Edge+
The first and one of the most important steps to take when you get a new Vista Vessel Edge+ is registering it with Vessel to get access to their included extended warranty. To do this, simply scan the QR code on the back of the box and follow the on-screen prompts. You can also follow this link: https://www.vesselbrand.com/pages/registration. The whole process only takes a couple of minutes, and it's worth it to have the Vessel extended warranty
The second step before using your new Edge+ oil pen is to charge it fully. Fully charging the device prior to use will help ensure you get the best possible battery life.
The third step is to install your favorite 510 thread cartridge into the battery.  The Vessel Edge+ is compatible with 95% of all 510 thread cartridges. The only limitation is width, so if it fits, it works. Screw your filled cartridge clockwise into the port on top of the battery.
Next, the fourth step you need to take is powering on the device. To power on the Vista Edge+ click the button five times rapidly. The indicator lights will flash three times wherever the oil pen is turned on or off.
For the fifth step, you need to set your preferred vaping temperature. We suggest starting on the lowest temp (2.4 volts) first and then trying out the other three higher settings one at a time until you find the best setting with the particular oil you are using. To switch between voltages, click the button three times rapidly. The lights will change color to indicate the current voltage setting.
The sixth and final step is to enjoy. To take a hit from the Vessel Vista Edge+ vape hold down the button while you inhale. The LED lights will illuminate while the battery is providing power to the cartridge.