Jupiter Silo Battery
Introducing Jupiter Research's most revolutionary portable vaporizer batteries, the Jupiter L6 Silo Battery. If you are looking for the perfect vape to share with friends or chill solo, then the Jupiter Silo is best choice for you. The Jupiter Silo battery is designed for easy use at any time, anywhere. To use, simply screw the silo adapter to your 510-threaded cartridge, drop it in the Silo, and you're ready for the adventure!  The Jupiter Silo is inhale activated, so there are no buttons and no hassle with an on/off switch. We carry the Jupiter L6 Style Silo in a variety of colors to suit your style. You will not be disappointed with this small and mighty vaporizer battery.
Features of the Jupiter Silo:
Ultra portable, tiny, and discreet. Dimensions: 63 x 28.8 x 18mm

Inhale activated 

Recharges quickly with Micro USB, included

Equipped with short-circuit protection, overusage protection, and overcharge protection

Works with almost all 510-threaded cartridges. Jupiter L6 Glass Refillable cartridges are recommended to work best with the Jupiter Silo

LED breathing indication light is located discretely on the top of the vaporizer 

Compatibility will all vape pen batteries
The Jupiter Silo is sleek, and is customizable with various mouthpiece tips and cartridge types. The Jupiter Silo kit comes with 2 magnetic adapters for 510-threaded cartridges, with additional adapters available at VPM. 
Parts for Jupiter Silo:
Charging the Jupiter Silo
Are you wondering how to charge your Jupiter Silo? Here's the guidelines from the manufacturer:
The Jupiter Silo will reach a full charge in about 1 Hour.
Here's what the LED light indicators signify:
Low/Dead Battery – LED indicator blinks 10 TIMES, the goes off. Silo stops working.
Charging – LED Indicator is on continuously
Fully Charged – LED indicator blinks 20 times and goes off.
While the Jupiter Silo is charging, the small LED at the top of the device will light up and remain lit. Once the device reaches a full charge, the LED will flash 20 times and then turn off. If the device is plugged into an active USB port or wall adapter and the light is not lit, it has a full charge.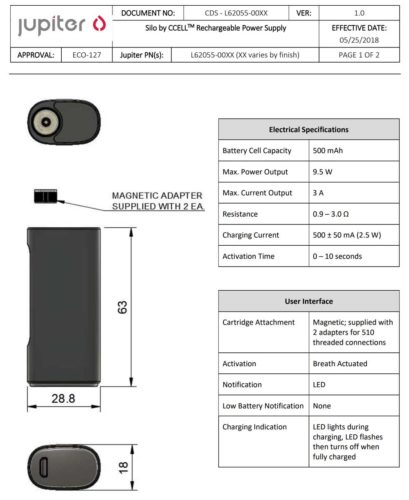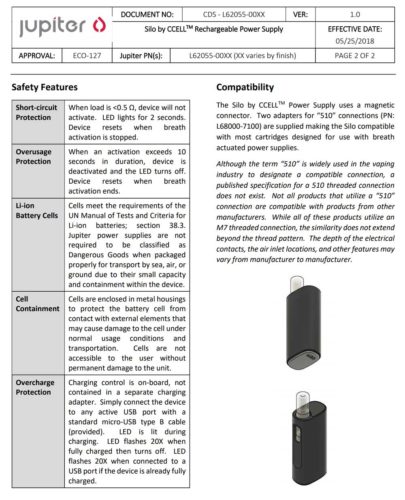 The Jupiter Silo Battery is sure to make a lasting impression on your oil vaping experience.