$44.95
Price Check
Jupiter Liquid 9 Vape Battery
Only 17 left! We'll ship within 24 hours
Contents of The L9 Package include:
Liquid 9 Rechargeable Device for use with Magnetic Cartridges like this
Micro USB Charging Cable
1ML Cartridge Sleeve & 0.5ML Cartridge Sleeve
User Manual
Non-functional Display Cartridge
* Attention USA Customers: Due to territorial and contractual restrictions out of our control, we are unfortunately not able to sell this battery within the USA.
We understand you want this battery for your pre-filled, magnetic cartridge likely purchased from your dispensary.
The only alternative battery we are aware of that will work with your L9 or Airo Pro magnetic oil cartridge is the PCKT One Plus Battery , which accepts cartridges with a built in magnet. However, your magnetic cartridge must be 1.0ml in order to be tall enough to extend out of the PCKT One Plus Battery. So to reiterate, L9 or Airo Pro magnetic cartridges in 1.0ml capacity will work in the PCKT One Plus Battery.
used for: oil
Jupiter Liquid 9 Battery (L9)
The Jupiter Liquid 9 Battery, also known as the L9 battery is an elegant fusion of science and design. Jupiter is a vapor delivery platform specifically engineered for premium extracts.
Its unique architecture and technology delivers a consistent, satisfying, and unmatched experience in remarkably simple form.
Contents of The L9 Package include:
Liquid 9 Rechargeable Device
Micro USB Charging Cable
1 gram Cartridge Sleeve
.5 gram Cartridge Sleeve
User Manual
Non-functional Display Cartridge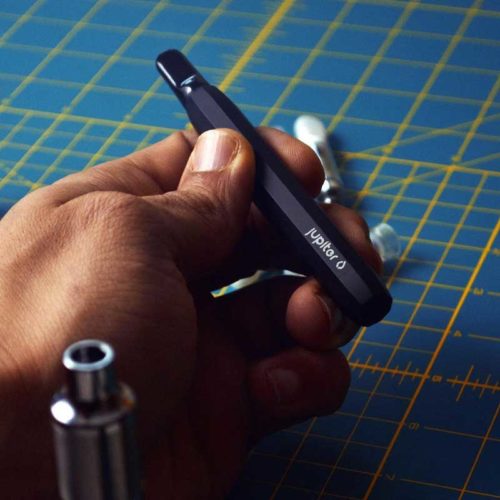 Jupiter Liquid 9 Battery Unique Features
The L9 Battery is unique in a few ways.  The battery connects to the cartridges using a built in internal battery.  Genuine L9 Cartridges and Airo Pro cartridges are the only cartridges that does not require a magnetic adapter.  No more power button, the L9 battery is inhale activated.  Simply attach your cartridge and inhale, it's that easy!  The Jupiter Liquid 9 Vape kit includes two cartridge sleeves, the .5ml and the 1ml.  These covers are designed to hold the cartridge perfectly in place so the magnetic connections isn't broken.  If you break the magnetic connection the battery won't be able to apply the proper voltage needed to heat your cartridge and produce vapor.
Cartridge Compatibility
Jupiter Research designed the Liquid 9 Battery to work solely with the Jupiter L9 Cartridges.  The L9 Cartridge are phenomenal and use the legendary CCell technology inside.  Most L9 cartridges are available pre-filled from your local dispensary.  VPM carries the empty cartridges that you can fill your self.  Please note that the L9 cartridges can be difficult for fill for a novice user.  There are some work arounds to using the L9 cartridge but you must try them at your own risk.  Since the Jupiter Liquid 9 battery has an internal magnet you can use a magnetic cartridge adapter that will thread onto your favorite cartridge and allow the battery to stick to them.  When doing this you may not be able to use the provided cartridge sleeves and it will make it easy for you to break the magnetic connection.
If you choose to go the route of the magnetic adapter we suggest using the CCell Th2 Cartridge as it has provided the most success.
For full technical details, click here to visit the Jupiter Research website.
1
COMPATIBILITY GUARANTEED
The parts that fit. Not the parts that quit.
2
YOUR HAPPINESS GUARANTEED
Clouds out of your mouth not your ears
3
SHIPPING EVERYDAY BUT SUNDAY
Processed within 24 hours. Shippity-doo-dah!
4
TRACKING SENT TO YOUR EMAIL
That's just good manners.
5
DISCRETE SHIPPING AND BILLING
Mind your business nosey neighbors.
6
INTERNATIONAL SHIPPING
Because why shouldn't we?