Introducing the VPM "Full-Glass" Cartridges: A New Generation of Vape Cartridges
The VPM all-glass / full-glass cart is a cutting-edge all-in-one cartridge representing the latest and greatest vape technology. Made almost entirely of glass, this advanced cartridge is designed to showcase your favorite oil and terpene profiles while offering a unique and stylish appearance. With its streamlined design, the glass tank serves as the cartridge and mouthpiece, making the VPM empty all-glass cartridge stand out from many of our other oil cartridges for sale. In addition, these new full-glass carts have adjustable airflow.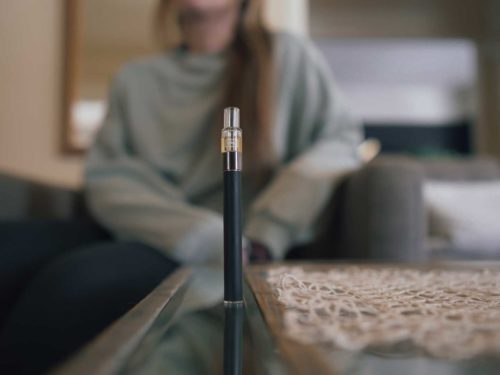 All Glass Cartridge Heating Info
Our ceramic heating system is the result of years of research into vaping technology. The all-glass cartridge atomizer is a lot more porous than other all-glass oil cart brands. This allows for deeper absorption, larger hits, and a better overall flavor profile experience. The heating core is made of food-grade ceramic so you know it is safe to use. VPM full glass carts work best with high-voltage batteries. 
Full Glass Cartridge Battery Compatibility
With a 1.0g or 0.5g volume, the G-Series can be used with most batteries that are compatible with a standard 510-thread oil cartridge. However, please be aware that the G-Series is 12mm in diameter, so it will not fit into most drop-in style batteries, such as the CCell Palm or the Vessel Compass. We recommend pairing it with a pen-style battery or one of the drop-in-style batteries that accepts oversized carts. The CCell M3 Plus or Yocan Uni Pro batteries are perfect for enhancing your vaping experience with the G-Series.
Why Should You Choose a Full Glass Oil Cartridge?
There are many reasons to choose the G-Series oil cartridge. Here are just a few:
Unique and stylish design: The the full glass design is sure to make you stand out from the crowd.

Microscopic porous ceramic atomizer: Our ceramic heating coil allows for better oil absorption and a more flavorful experience.

Temperature distribution technology: Our even heat distribution makes sure that your oil delivers its complete flavor profile and optimal taste.

Compatibility with a variety of oils: The G-Series can handle thick oil better than most standard cartridges.

Empty all glass cartridges are designed for optimal oil and airflow: The G-Series all-glass construction provides a corrosion-free surface for superior oil flow.

All-in-one cart design: The G-Series is compatible with most Vape Pen batteries. It is 12mm in diameter, so it will not work with most drop-in-style batteries.

Safety and quality: Food-grade and medical-grade materials are used in production to make sure they meet safety and quality benchmarks.

Tested for quality: All components of our products pass stringent heavy metal testing.

Available in full gram (1.0ML) and half gram (0.5ML) capacities.
Testing & Safety: Your Safety Is Our Priority
At VPM, safety comes first. We manufacture our all glass cartridges with risk-free raw materials from well-known suppliers and manufacture all products in a facility with the strictest production standards. Our heavy metal-compliant products ensure a quality experience for the end user. All components of our products pass stringent heavy metal testing, so you know they are safer than traditional cotton-wick cartridges.
Tips and Information on Leaky All Glass Oil Cartridges
We want you to have the best possible experience with your G-Series cartridge. Here are some tips to help you avoid any leakage issues:
Increases or decreases in elevation, such as the ones caused by airplane travel, may cause your all-glass cart to leak.

Store your filled cartridges in dry places with a moderate ambient temperature to help prevent leaking. Hotter temperatures can also cause a leak, so we recommend not leaving your cartridge in a hot vehicle as it may cause leakage.

We recommend storing your all-glass cartridge with the mouthpiece pointing down, especially if you can't avoid temperature or elevation changes. This allows the atomizer to breathe and prevents leakage through the bottom.

Cap the cartridge within two minutes of filling it to create a vacuum within the tank. If you wait more than ten minutes, the atomizer may become fully saturated, increasing the risk of leakage.

Replace your cartridge if you experience any leakage or stickiness.
Using the G-Series full glass cartridge is easy. Fill the glass tank with your favorite oil, attach it to your battery, and take a hit. It's that simple!
The VPM full glass cartridges are for sale online at VPM.com.