CCell Palm, Silo, Rizo, Sandwave, and Palm Pro Magnetic Screw Adapter Replacement
The CCell vapes are among the most popular vaporizer batteries available today.  One of the many features the CCell Palm, and other oil batteries are famous for is their amazing magnetic cartridge connection system.  Rather than the traditional method of twisting on your 510 threaded oil cartridge, CCell made their batteries magnetic.  In order to use the magnetic batteries with a traditional 510 cartridge, you will need the CCell Palm Magnetic screw adapter. The adapter screws onto the bottom of the oil cartridges to magnetically connect the CCell Palm as well as to the CCell Silo and CCell Rizo, CCell Sandwave and Palm Pro units.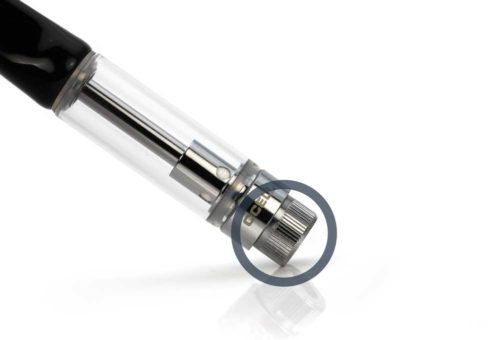 The actual magnet resides inside the battery itself.  Made from steel allowing the magnet to make a firm connection with the cartridge.  This type of magnet connection will allow the cartridge to easily spin within the device making it extremely easy to properly line up the cartridge with your mouth.
CCell Silo Magnetic Screw Adapter
This adapter is also designed for the newly released CCell Silo Battery.  Both the Silo and the Palm battery use the same internal magnets making this a universal piece between the two units. The Adapter is also fully compatible as the Jupiter Palm adapter and Jupiter Silo adapter.
Magnetic Screw Adapter Compatibility
One question we get is the CCell Palm Magnetic Ring adapter compatible with other units?  This is a tough question as there are many magnetic batteries available on the market today.  We have tested the screw adapter with the Jupiter 9 Battery.   Testing has shown it will work assuming you are using the correct 510 threaded cartridge. 510 thread oil cartridges are not created equally.  It is important that you use a bottom airflow cartridge when using the CCell magnetic adapter.  Once you have the adapter on the cartridge the cartridge cover provided with your Jupiter L9 battery will most likely not fit.
Compatible Cartridge Types
Any cartridge that has 510 threads is compatible with the CCell Palm Magnetic Ring Adapter.  When using the adapter with a CCell Palm, CCell Silo, CCell Rizo Or Jupiter L9 it is imperative you use a bottom airflow cartridge to allow the inhale feature to work properly.  Above all we recommend using CCell branded cartridges with your CCell batteries.  The most popular choice is the CCell TH2 and EVO Oil Cartridge.