$149.95
Price Check
XVape Vista Mini 2
Introducing the XVape Vista Mini 2 portable concentrate eRig. A powerful, highly portable vaporizer for waxy concentrate consumption.
4 Heat Settings Indicated by LED light
Quartz Atomizer, coil embedded in the glass (2 atomizers included)
Fast 10 second heat-up time
Water filtration with water bubbler
Glass Discovery Carb Cap (easy to see inside the atomizer)
Wireless & USB Charging
Haptic Feedback Technology
Free Impact resistant, smell proof carrying case included!
used for: wax
XVape Vista Mini 2 E-Rig Vaporizer
To view and download the XVape Vista Mini 2 User Manual, click here.
XVAPE VISTA MINI 2 is a reimagining and vast cutting-edge update in the world of compact but powerful bubbler vaporizers for your concentrates or oils. This new stunning device features 4 LED indicated heat settings perfectly optimized for users and concentrate of all varieties, a one-of-a-kind glass discovery carb cap perfect for viability, a ergo-blaze flared mouthpiece for comfort, detachable glass bubbler, secure flow silicone seal, a revolutionary AIO crystal quartz atomizer equipped with short circuit protection, along with all your favorite features from the first version like wireless charging and haptic feedback.
The Vista Mini 2 is a statement piece and the perfect size for your desk, coffee table, or on the go. It comes with an impact resistant smell proof carrying case that can pack all your necessities for dabbing. The Vista Mini 2 will continue the legacy of the best concentrate vaporizer into 2020 and beyond.
The Xvape Vista Mini 2 dab rig offers a mind-boggling array of features found only in vaporizers priced hundreds of dollars more. Why pay more for over-priced concentrate vaporizers when XVape offers a higher quality, more durable, and better tasting vaporizer from top to bottom!
Vista Mini 2 Compact Concentrate Vaporizer and Dab Rig
The new Vista Mini 2 is a portable electronic dab rig. With it's solidly built, compact design, this concentrate vaporizer offers the features of a larger desktop unit all wrapped up in an exquisite package. With its strong vapor, the Vista Mini excels in offering an exceptional taste and accentuated flavor for its owners. If taste is important to you, then the Vista Mini 2 dab rig will be a dream come true.
The Vista Mini 2 vaporizer is a must-have tool for the arsenal of vapers both new and experienced.
Who is the Vista Mini 2 for?
With an eye always in the future of both design and fashion, XVape has taken both the technology and the design of its newest vaporizer to another level. Our concentrate dab rig vaporizer is lightweight, compact, and just plain stunning – featuring a multi-color LED lighting system that changes with your temperature. Now your vaporizing can be the life of every party or vaping sesh.
1st In Class Wireless Charging Concentrate Vaporizer
Waiting for your vaporizer to charge is never fun – and we've all run into the problem of not being able to find a charging wire when we need one. Well, the engineers at the XVape laboratories have heard your cry for help and answered with one of the coolest features around: wireless charging. All it takes is a wireless charging pad, or power sharing on your mobile device, and your XVape Vista Mini vaporizer can be back up and running with out the hassle of wires or cables.
Water Diffusion
The XVape Vista Mini is a concentrate vaporizer, better known as a bubbler or an electronic dab rig. What that means is that it holds a small amount of water in its central cell – just enough to smooth out the vapor, optimizing both the quality of the vapor itself and the flavor it supplies. No other electronic dab vape on the market offers the caliber of vapor we provide. At XVape, taste and quality are our motto.
Easily Replaceable Atomizer
A burned out or poorly-performing atomizer are the bane of every vaper's existence. We have made replacing the unit a care free and easy to perform task. With a few simple twists, the Vista Mini 2's atomizer can be removed and replaced. You'll be back vaping again within seconds.
Specifications:
4 LED indicated heat settings
Wireless & USB charging capabilities
Portable Compact Size
AIO Crystal Quartz Atomizer with short circuit protection
Haptic Feedback
Hand-blown Borosilicate Detachable Glass Bubbler and flared mouthpiece
Full glass discovery carb cap
60 dab average battery life
Lightning Fast 10 second heat-up time
Impact Resistant and Smell-proof Carrying Case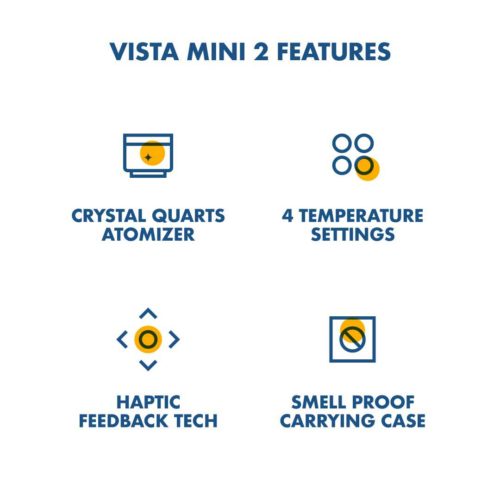 Related Parts:
1
COMPATIBILITY GUARANTEED
The parts that fit. Not the parts that quit.
2
YOUR HAPPINESS GUARANTEED
Clouds out of your mouth not your ears
3
SHIPPING EVERYDAY BUT SUNDAY
Processed within 24 hours. Shippity-doo-dah!
4
TRACKING SENT TO YOUR EMAIL
That's just good manners.
5
DISCRETE SHIPPING AND BILLING
Mind your business nosey neighbors.
6
INTERNATIONAL SHIPPING
Because why shouldn't we?
XVape Vista Mini 2 FAQs
Can the XVape Vissta Mini 2 be used with dry herbs?
No, the Vista Mini 2 should be used only with waxy concentrates.
Who manufacturers the XVape Vista Mini 2?
The Vista Mini 2 and all XVape products are manufacturerd by TopGreen Technology.