XMax Daboo Nectar Collector (Honey Straw)
The Daboo is the newest wax vape from trusted manufacturer XMax. The Daboo is a "nectar collector / honey straw" style vape which means the user touches the tip (heating element) of the device to a dab of concentrate while inhaling to create instantaneous vapor. The Daboo uses a quartz heating element coil and a built in water bubbler to create cool and tasty vapor.
Turning On & Indicator Lights
The Daboo can be turned on and off with three rapid clicks of the power button. The indicator light keeps you informed of the remaining power level of the battery. When the light is green, your Daboo is at 60%+ charge, White is 20%-60%, and Red is less than 20% so you know it's nearing time to put the device on the charger.
Daboo Power Modes
The Daboo has variable voltage settings to allow you to dial in the temperature you find to be ideal for you and your concentrate. To change voltages (power modes), press the power button two times rapidly. Low = 545 degrees, Medium = 608 degrees, and High is 680 degrees.

Heating Activation
The Daboo has two ways to begin heating; on-demand mode and draw activation mode. To use on-demand mode, a user can press and hold the power button to heat the tip and begin inhaling for up to 20 seconds or simply release the power button to turn off heat to the tip. Draw activation mode is pretty self explanatory, inhalation will heat up the tip for up to 10 seconds.
What's in the box?
Included in the Daboo Kit are:
Two replacement O-rings
User manual
USB C charger
Daboo Itself (bubbler, heating coil element, and battery)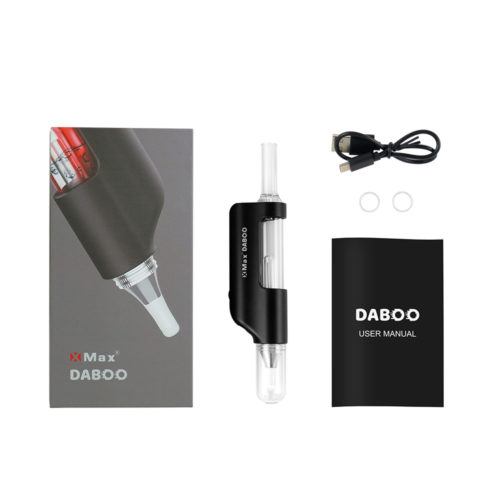 If you have any further questions, the XMax Daboo User Manual can be found here. Otherwise, please feel free to reach out to use via our contact page any time.