XMax Qomo Mini Erig
The XMax Qomo is a quick heating, easy to use, mini E-rig for a super portable way to vaporizer your concentrates on the go. The XMax QOMO has three temperature settings to choose from and LED lights which indicate power mode. All of the parts are removable for easy cleaning and are affordably replaced. The whole ceramic cup coil makes for dense, tasty clouds that are impressive for the Qomo's small travel-friendly size, and the glass bubbler makes vapor smooth and cool. The 1350mAh battery is powerful enough to get you through the entire day and will last over 10 sessions on each charge.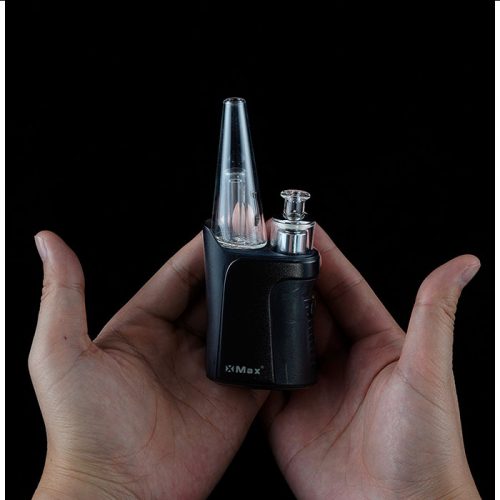 Features of the Qomo
Beginner and Budget Friendly
Single Button Operation
Removable, easy to Clean Parts
Affordable replacement parts
Glass Bubbler for Cool & tasty vapor
Coil cup is 100% ceramic for Great Vapor Production
Ready-to-Use After 10 Second Preheat
1 Hour Charging Time
3 power modes White = 536°F , Green = 608°F , Red = 662°F
LED Lights Display Temperature
Modern USB-C Charging
What's included?
Included in the Qomo Retail Packing is:
The Qomo Itself which includes
– Battery Base, Ceramic Cup Qomo Coil, Qomo Gass Ring, Qomo Carb Cap, and Qomo Glass Bubbler
Micro USB Charging Cable
Qomo User Manual
Affordable replacement Parts: