Maxcore Brand E5 & E10 Oil Cartridges
Looking for an oil cartridge that is both affordable and high quality? You've finally found it. That's right, oil vape hardware that won't break the bank. Maxcore's E-Series Cartridge matches the performance of other well-known brands, at a better price.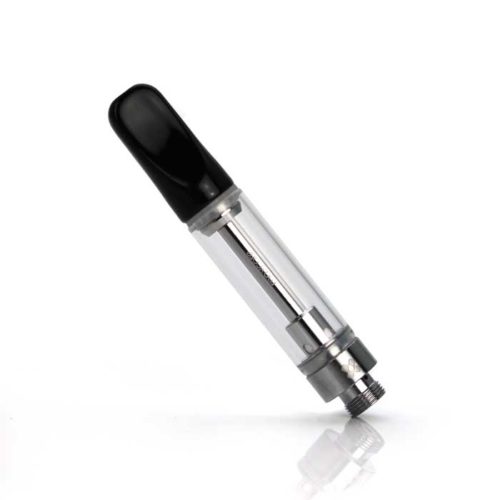 Maxcore's proprietary CHS, ceramic heating system, was designed after 2 years of thorough research on the current market. Their food-grade ceramic is 55% more porous than competing brands on the market, allowing for deeper absorption, larger puffs, better flavor experience.
The E-Series is offered in two sizes with several mouthpiece options, and can be easily opened and resealed. This universal cartridge can be used in any battery that is compatible with a standard 510-thread oil cartridge. However, for optimal performance, flavor, and potency it is recommended to be paired with one of Maxcore's batteries, such as the Maxcore Inspire, Maxcore Trigger, or Maxcore iPower. 
Maxcore promotes an exceptional user experience while charging a fair price. The Maxcore E-Series is a great choice for distillate vaping.
Why Choose the Maxcore E-Series Oil Cartridge
As an emerging brand, Maxcore has done their research and worked hard to create a superior oil cartridge. There are several features that make the E-Series a great choice:
Highly porous ceramic atomizer that allows for better oil absorption
Temperature control technology and even distribution of heat to ensure concentrates deliver their full flavor profile and 100% original taste
Compatible with a variety of distillates, including thicker oil than traditional atomizers
Glass cartridge designed to offer optimal oil flow and anticorrosive properties
Leakproof, silicone seal between detachable mouthpiece and cartridge
Only food and medical-grade materials are used to ensure safety and quality
Sleek, compact design for optimal discretion
No need to wait for the E-Series to preheat; just inhale and enjoy!
Compatible with all vape pen batteries.
As you can see, there are a lot of reasons to choose the Maxcore E-Series but if you need more evidence, read on my fellow vapers.
E-Series Cartridge Sizes: Volume for Any Preference
It's important to feel in control of your experience. By offering various sizes and styles to choose from, Maxcore puts you in the driver's seat.
There are two size options for the Maxcore E-Series Oil Cartridge: 0.5g and 1.0g. A smaller volume will provide heightened discretion, while increasing the cartridge volume will maximize the duration of usability.
The official part numbers for the Maxcore cartridges are:
E5 (0.5g) – Half Gram Cart
E10 (1.0g) – Full Gram Cart
Mouthpiece Options for Increased Style
Maxcore offers yet another way to customize your experience. Each cartridge has a replaceable mouthpiece, which is easily attached by screwing it onto the top of the cartridge. Mouthpieces are available in Black or White Ceramic. This variety of styles is sure to fit any mood and complement any battery design.
Testing & Safety: You're in Good Hands
At Maxcore, safety comes first. From manufacturing to management, Maxcore promises standard-setting performance.  They procure harm-free raw materials from well established suppliers and manufacture all products in their dust free facility with the strictest production standards ensuring safe products to customers.  All products are ISO, GMP, UL, and CE compliant. Therefore, quality is tested and guaranteed through every step of the process. All components of their products pass stringent heavy metal testing, view testing results and certifications here.
Industry Disrupting Maxcore Cartridge Technology
Maxcore's products are manufactured by Deep Union, the second largest vape manufacturer in the world. They have spent several years researching the market to develop a high quality vape product that isn't overpriced.
VPM Promises Guaranteed Authentic Maxcore Brand Products
To ensure your safety on our end, VPM is a certified Maxcore distributor and all products can be verified with the official Maxcore logo on the metal collar and the internal post. Additionally, you can find "VPM" engraved on the bottom along with the batch number. All of these criteria are met to ensure verification of authentic Maxcore brand products.
Maxcore Cartridge Refill Option
Maxcore has a cartridge for any need. The Maxcore PF-Series is a Child Resistant option for safe, one time use. The E-Series and EP-Series are Maxcore's refillable options. Both the E/EP-Series are an affordable and unique product because of its reusability.
Unlike the PF-Series mouthpiece which doesn't come off once attached, the mouthpiece on your E/EP-Series easily screws on and off when you're ready for a cartridge refill. To fill the E/EP-Series, we recommend the Luer Lock Syringe which has a blunt tip needle for easy and clean extraction from the syringe.
Tips and Info on Leaky Oil Cartridges
Here are some tips and information we've gathered from the manufacturer and their distributors on how to do your part to avoid leaky Maxcore cartridges:
Changes in elevation, like air travel, can cause a cartridge to leak.
It's best to store your filled cartridges in cool, dry places. Increase in temperature can cause leaking, so leaving your cartridge in a hot car may result in spillage.
If you can't avoid temperature or elevation changes, store your cartridge with the mouthpiece pointed down so the atomizer can breathe and there can be no leakage through the bottom.
After filling, cap the cartridge within two minutes to create a vacuum within the tank. Beyond ten minutes, you run a greater risk of the atomizer completely saturating and leakage occurring through the bottom of the cartridge. Putting your mouthpiece on the cartridge is like putting your thumb on the top of a straw.
The E/EP-Series isn't infinitely refillable, so if you're experiencing any leakage or stickiness, it may be time to replace your cartridge.
Fill, Insert, Enjoy!
Using the cartridge is simple.
Fill the glass tank with a concentrate of your choice.
If necessary, screw a magnetic adapter onto the bottom of the cartridge.
Then, simply slide it into your battery and begin an extraordinary vape experience.
If you want more information on Maxcore or the products we offer, feel free to reach out to us. Customer service is a main priority at VPM, and we are here to help you in any way we can. We confidently guarantee happiness and satisfaction to all of our customers!