Jupiter Liquid 6 (L6) oil cartridge reactor
The Jupiter Liquid 6 Oil Cartridge comes in 0.5ml holding size. It is one of our oil cartridges using a ceramic atomizer rather than cotton wick.
Liquid 6 Cartridge Filling Instructions
Liquid 6 reactor cartridges from Jupiter Research are top-fill cartridges available in both 0.5 and 1ml versions. The two versions differer only in the length of the reservoir. If you are unsure which version you have, measure the overall length without the mouthpiece. 0.5ml cartridges have an overall length of 25 mm and 1.0ml cartridges have an overall length of 45.8 mm.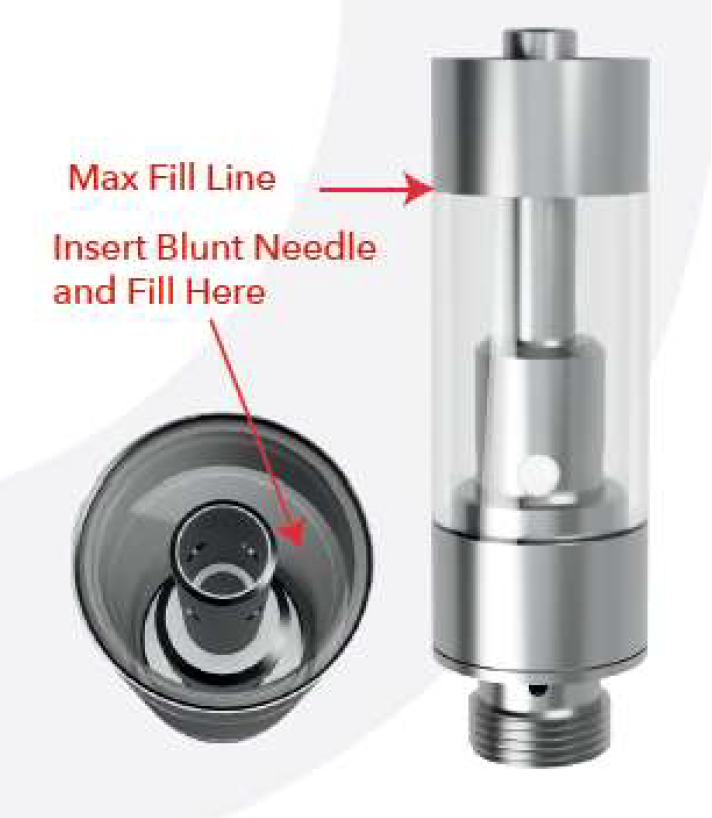 Filling Instructions
Insert a Blunt tipped needle (14 ga. or smaller) into the space between the airway and the outer wall of the cartridge (see the image)
While the Jupiter Liquid 6 Oil Cartridge is oriented vertically with the threaded connector downward, will the cartridge through the needle. Do not fill above the bottom of the metal collar on the open end of the cartridge.
Caution: Do not allow oil to enter the airway (center tube).
Do not overfill. If the Cartridge is overfilled, fluid will be forced through the atomizer and leak out of the bottom of the cartridge when the mouthpiece is inserted.
When the needle is withdrawn, do not allow fluid to drop on the inner surface of the cartridge where the mouthpiece is to be inserted. Fluid on this surface may act as a lubricant reducing retention of the mouthpiece.
   3. Immediately after filling with a luer lock blunt tip needle syringe, insert a mouthpiece and press the mouthpiece in until it is fully seated. Using a blunt object like a rubber mallet can tap the mouthpiece into place, or an arbor press can be used. Once the mouthpiece is fully seated, it cannot be removed without damaging the cartridge or  the mouthpiece.
   4. Cartridges should be allowed to stand for at least 30 minutes before use. During this time, fluid is priming the atomizer. The rate that the atomizer saturates is dependent upon the viscosity of the fluid. More viscous fluids will require more time.
Jupiter Liquid 6 Oil Cartridge Reactor Specification Sheet