Ispire DZD 900 Battery
The DZD 900 is Ispire's "drop-in" style 900mAh battery designed for standard sized cartridges (11mm). Cartridges are connected to this battery by threading one of the magnetic adapters provided to the bottom of your cartridge and dropping it into the battery. Two sizes of adapters are included to accommodate all cartridge capacities. This battery was intended to be used with the Ducore Slim S cartridge but is also compatible with any of your favorite 510 oil cartridges.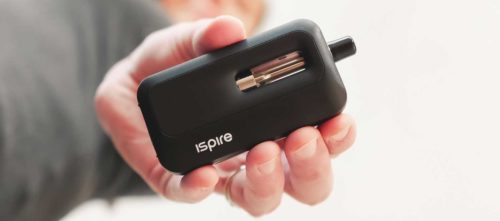 The DZD 900 offers three voltage settings. The voltage can be changed with one click of the mode (bottom) button. After changing the voltage you need to click the mode (small button on bottom) three times to lock in the voltage setting.
Low= Bottom of screen (2.8V)
Medium = Middle of screen (3.2V)
High = Top of screen (3.6V)
This battery can be activated by pressing the fire (large top button) button upon inhalation. The DZD 900 uses a micro USB charger, the charge current up to 1A, provides you with a quick charge. It also comes with the standard safety protection features to protect your battery including short circuit protection, over charging, and over heating protection.
Whats in the box?
1x Ispire DZD 900 Battery
1x Charging cable
2x Magnetic Adapters
1x User Manual
Ispire Oil Cartridges are not included but can be purchased at VPM.
If you have any questions about the DZD 900 or any of the Ispire Vape products, please reach out to us any time and we'll be glad to promptly assist you!