$69.95
Price Check
EVRI by Dip Devices
The EVRI Modular Vape by Dip Devices is a versatile device that allows you to vaporize wax and oil in any form. The battery magnetically connects to the included dipper attachment or cartridge/pod attachment.
Vaporize any wax concentrate directly with the dipper, 510-thread cartridge, and Juul/ejuice pods.
Removable battery
Variable Voltage
1-Year Warranty with Dip Devices
Adaptable for future models
used for: wax
Dip Devices "EVRI" Modular Vape
The EVRI features a battery that magnetically connects to a variety of continuously evolving attachments. With the EVRI, you can vape your concentrates in almost every form, including 510-threaded cartridges, Pods (E-juice), and through a Vapor Tip Atomizer that you can dip in any wax concentrate. Over the years, we have seen many changes and methods for vaporizing, and the EVRI is designed to evolve over time. 
The EVRI Kit includes the Battery Attachment, 510-Thread Cartridge/Pod Attachment, Vapor Tip "Dipper" Attachment (with Vapor Tip Atomizer, cap, and mouthpiece), Micro USB Charger, User Guide/Warranty Card.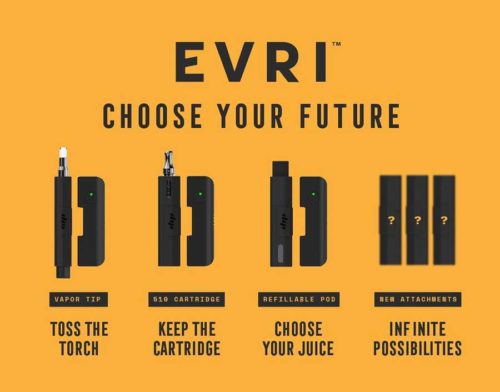 Battery Attachment
One of the most unique aspects of the EVRI is the removable battery attachment. This allows the EVRI to be versatile, and able to adapt to the way you want to use it, along with any future attachment that is created. The battery voltage is adjustable, so you can accommodate to the way you are using it. To adjust the heat setting, press the button 3 times quickly. [Blue=Low (2.6V) , Green=Medium (3.4V), Red=High (3.8V)]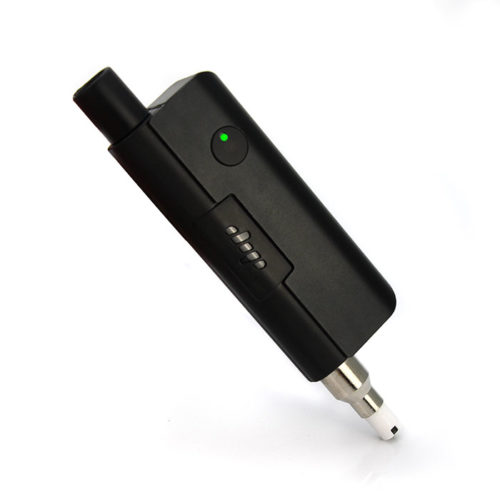 Vapor Tip "Dipper" Attachment 
Have more control with your dabs by "dipping" the Vapor Tip Atomizer, like a straw, directly from the container of your concentrates. The Dipper attachment is great for ease-of-use, and sharing with others. At VPM, we carry Vapor Tip Atomizer Replacements. 
510 Thread/Pod Attachment
Vaporize your favorite 510-threaded cartridge on this end of the attachment. It has a small window that will allow you to see your cartridge and how much you have left. The other end can be used for Juul or other e-juice Pod. Pods and Cartridges are not included with the EVRI.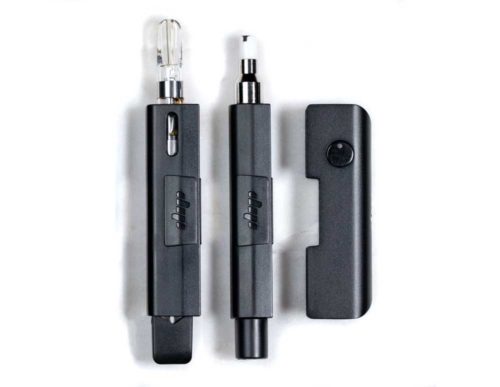 1
COMPATIBILITY GUARANTEED
The parts that fit. Not the parts that quit.
2
YOUR HAPPINESS GUARANTEED
Clouds out of your mouth not your ears
3
SHIPPING EVERYDAY BUT SUNDAY
Processed within 24 hours. Shippity-doo-dah!
4
TRACKING SENT TO YOUR EMAIL
That's just good manners.
5
DISCRETE SHIPPING AND BILLING
Mind your business nosey neighbors.
6
INTERNATIONAL SHIPPING
Because why shouldn't we?