What Even Is CCell? Like srsly?
What Even Is CCell? Like srsly?
CCELL is a trusted name in the vape industry. They produce products like batteries, oil cartridges, and pod pens; all while, aiming for portable perfection with each one. All of their products are engineered to treat your favorite concentrates with as much love as you do. Bottom line, CCELL is innovative, reliable, and good at what they do.
CCELL describes themselves as "a leading technology brand with a focus on creating standard-setting vaping hardware products and advancing vaporizing technology." Based on their success, this description acts as a goal for this company, one that is consistently met.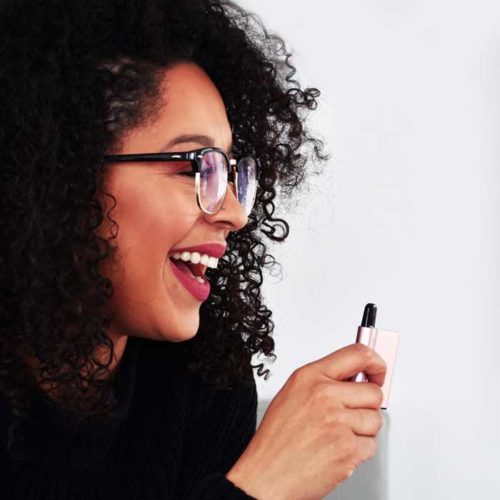 Shenzhen SMOORE Technology Limited
Manufacturing matters in this industry, and Shenzhen SMOORE Technology Limited is one of the biggest players in vaporizer production. 
CCELL was created at SMOORE headquarters in 2015 when SMOORE wanted to step further out of the e-cig game and into the quickly developing cannabis vape market. SMOORE had almost ten years of experience crafting quality tech and had already proven their dedication to top level performance when CCELL was developed to produce cannabis oil vape hardware.
Authentic CCELL brand equipment is manufactured by SMOORE, and with the sheer volume of patents they hold, both CCELL and SMOORE will continue to dominate the market.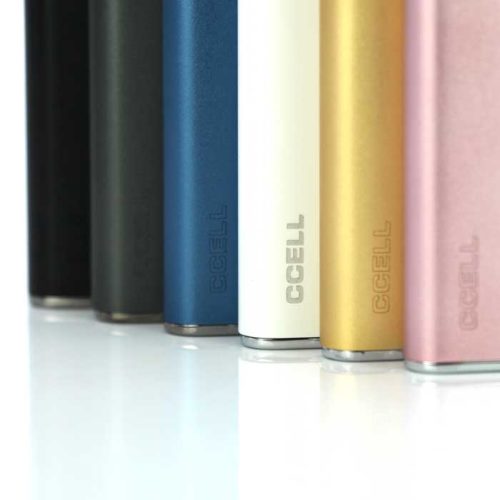 SMOORE gives CCELL the technology, space, and mind power to continually produce the highest quality vape gear. CCELL takes advantage of the large areas SMOORE offers for manufacturing, as well as for research and development (R&D). 
There are over 260 engineers from around the world working on research and development for CCELL. In addition, they invest 6.5% of their annual income right back into R&D. This is a company that takes innovation and efficient engineering seriously.
Quality Manufacturing For Easy, Confident Vaping
CCELL vapes are practically perfect for any use and any customer because they create their products using unique CCELL Technology that delivers purer flavor, larger puffs, and higher potency.
Whether you're looking for a powerful pen-style vape like the CCELL M3 Battery that will slip discreetly into your everyday routine, or a sleek, elegant pod pen like the CCELL Luster that produces smooth flavor, you can be confident that you'll find what you're looking for from CCELL. 
More than that, you can feel comfortable knowing they've done everything they can at the manufacturing level to ensure you have the best and safest vape session every time.
Pieces are precisely and consistently tested, from raw materials to finished products.

Medical and food grade materials are used and heavy-metal tested to ensure the healthiest experience possible.

CCELL adheres to the strictest hygiene and safety standards. Materials and workers must pass through a thorough disinfectant process before entering the work area. 

They are the first dust-free workshop in the industry, which means employees, customers, and products are all safer.

CCELL holds several production system certificates, and they increased production efficiency by adopting automation equipment—such as part loading, resistance testing, and defection screening automation systems. 

Patented CCELL Technology
CCELL's genius lies with their patented ceramic heating elements and dedication to superior engineering. 
Wick vs. Ceramic Heating 
CCELL's heating elements revolutionized vapes for the cannabis industry. Traditional wick based technology commonly used in atomizers just can't compete with the efficiency and purity of CCELL Technology. 
With CCELL's unique ceramic design, you get pure flavor, consistent performance, complete absorption, and a pen that launches at the first puff. Wick atomizers have been known to produce burnt flavor, they don't work with high viscosity oils, their performance is inconsistent, and it takes about 5-6 puffs to launch properly.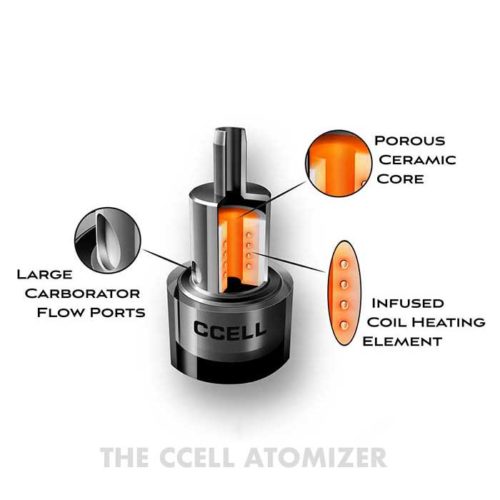 CCELL ceramic coil atomizers are specially engineered to possess nanoscale inlet holes which excel at absorbing, storing, and vaporizing even the thickest concentrates. 
Be sure you are using your CCELL vaporizer until you aren't getting any vapor or flavor, because even though it may look like the tank is empty, oil could still be stored in the vape's heating element. Consistent heating of the oil means it's good to the last drop!
The CCELL TH2 Oil Cartridge is popular for this and many other reasons:
Ceramic atomizer 

Glass tank

Removable wood or ceramic mouthpiece

Leakproof design

Variable capacity (1g, 0.5g, and 0.3g)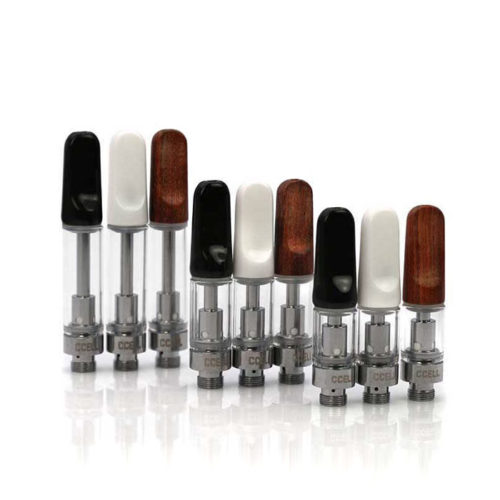 When you pair a revolutionary CCELL vape cartridge with one of their aluminum-alloy housed batteries, like the popular CCELL Silo, you'll have a vape pen that promises a luxury experience. CCELL parts are easy to use, too. It's usually as simple as filling your cartridge, slipping it into the battery, and inhaling!
Why Choose CCELL?
By choosing CCELL, you are guaranteed:
Pure and potent flavor

Consistent heating with every pull

Minimal waste of your oil

Powerful effects

Sleek, discreet design

Portability and functionality
A Brand You Can Trust
When we say CCELL is a powerhouse in the market, we mean it. Concentrate producer OutCo says, "We searched for a cartridge to match the quality of our oil, and finally found the answer: CCELL. OutCo wouldn't trust it's oil in any other cartridge." And while most of their vape batteries are compatible with any 510-thread cartridge, we suggest trusting CCELL carts with your oil like OutCo does.
VPM.com customers consistently review CCELL with high praise. One of our best-selling products, the CCELL Palm Battery, rakes in tons of positive feedback: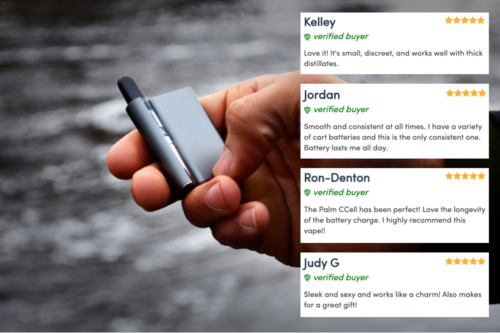 VPM.com is proud to have been one of the first companies to supply Authentic CCELL Brand products, and we are confident that you will find a product you'll enjoy from our selection of CCELL Vapes.
How Do I Know I'm Getting an Authentic CCELL Brand Product?
This is an important question because you want to be confident in your purchase, especially when it comes to vaping. When buying CCELL, it's important to note there are four main wholesale distributors: Jupiter, CannaBrand Solutions, 3WIN, and Kush Supply Co. CCELL signed deals with these four wholesalers in order to  distribute their products in the US.
Trusted sellers, like VPM.com, buy from these distributors and offer Guaranteed Authentic CCELL products to consumers.
We always recommend finding and buying from a seller you trust to keep your mind at ease. But if you want to further ensure you have the real deal, you can check different authentication markers. For example, all CCELL carts have the "CCELL" logo and production lot number engraved on the bottom. You can also check here for the name of one of the four authorized distributors. Or if you're still unsure, you can contact [email protected] with the production lot number of your cartridge, and they will authenticate it for you.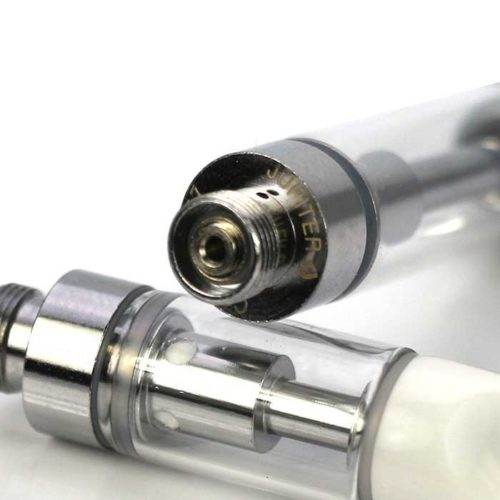 If you have any other questions about CCELL or want more information on specific products, feel free to contact us at VPM or reach out to our wholesale cannabis vape department for bulk oil cartridge or battery needs. We are here to help, and want our customers to have reliable products that deliver the best vape experience possible!