$49.95
Price Check
Maxcore PodPal
We haven't been more excited to introduce an oil vape pen in…. YEARS! The PodPal is breaking the dry streak with some innovative features that are not found in other devices. Watch the video below if you've got 3 minutes. Key Features of the PodPal include:
700mAh "Power Pack" Carrying Case
80mAh pen battery (charged by carrying case when inserted)
Two 1.0 ML oil pods (single use)
Easy to fill pod system, perfect for fill-your-own
USB-C charging (charger included)
Intuitive LED charge light indicators
6 Month Warranty through VPM
"This is the perfect pen if you have an affinity for oil." – HighTimes Magazine
used for: oil
Maxcore PodPal Oil Vape Pen
Calling all oil-vaping-enthusiasts: the new PodPal from Maxcore is exactly what has been missing from the marketplace when it comes to vape hardware. Finally, a device that is different, as well as high quality. The PodPal offers a unique and personalized oil experience— something many consumers are looking for.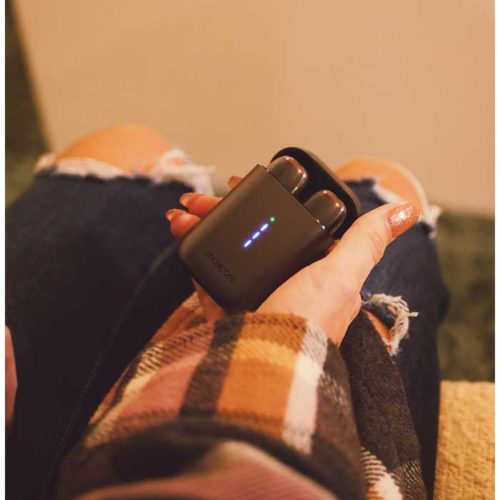 Optimized for cannabis distillate, this Pod system offers a sleek, compact and on-the-go vaping experience. The PodPal includes a rechargeable PodPack carrying case designed to include not one but two 1.0ml pods and a reusable battery. When the powerful, 700mAh PodPack needs to be recharged, simply plug it in using the included USB-C cable with overcharge protection. The LED light indicators on the front of the PodPack will alert you to how charged the battery is as well as the PodPack.
Because the PodPal was designed to hold two Pods, you can maximize your experience by filling each of them with a different oil, depending on your desired effect.
In their PodPal Review, HighTimes magazine called the PodPal "the perfect pen if you have an affinity for oil".
What's in the box?
The package includes:
1x Power Pack carrying case
1x PodPal pod pen battery
1x USB-C charger
User manual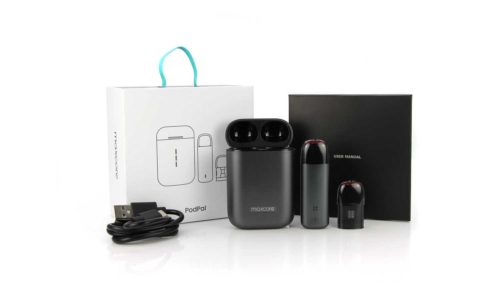 Revolutionary Production
Maxcore, the oil vape brand of Deep Union is the second largest manufacturer in the world. Manufacturing matters to us and should matter to you. Maxcore is constantly working on new vape innovations, pushing the industry forward to make better technology, like the PodPal. Safety, both in performance and materials, is a crucial principle of the Maxcore Brand. When your PodPal arrives, you can be confident you're getting a top-notch product.
Why Choose Maxcore PodPal
The PodPal is super portable and pocket friendly, not to mention very sleek looking. There are several reasons people choose this battery, such as:
The Maxcore PodPal features a durable plastic carrying case, available in three different colors: black, grey, and white. Whatever your preference, you'll find something you're sure to like.
The PodPal Battery is made of a sturdy aluminum alloy. The brushed finish means it is fingerprint resistant, ensuring that high-end look at all times.
There is a small LED indicator on the front to display battery life. The top circular LED indicator shows the battery life of the PodPal battery, higher than 90% charged, the light will be green. The three linear LED indicators show how charged the PodPack is: one line is less than 30% charged, two lines is 30-65% charged, three lines is over 65% charged.
It's easy to swap out the various Pods once filled, as they are magnetic and simply drop into place within the PodPen battery.
Except for the oil, everything you need is included with this device, even a USB-C charging cable.
Includes all retail packaging and ships out within 24 hours!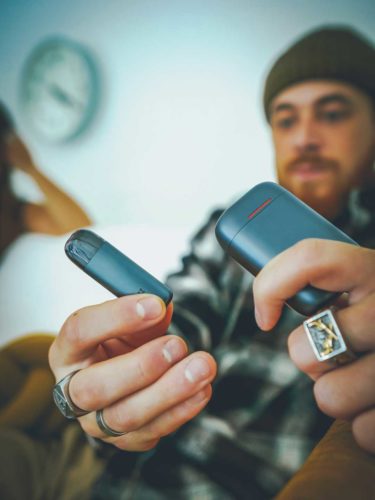 Charging the PodPal
You can charge the PodPal with any USB-C cable, but we include a small over-charge protection cable for your convenience. Once fully charged, most users experience about a weeks' worth of use before needing to recharge the PodPal carrying case. As for the small PodPen battery inside, simply keep it stored within the carrying case and it will always be ready for that perfect hit.
Maxcore PodPal Filling And Assembly Instructions
Holding the Pod upright, fill the tank with 1.0ml of your favorite oil; we recommend using the Luer Lock Syringe which has a blunt tip needle for easy and clean extraction from the syringe. Do not overfill and do not allow oil to enter the center airway.
Immediately after filling, insert and press the small cap until it is fully sealed. Failure to insert the cap immediately could cause leakage. Once the PodPal is capped, it cannot be uncapped.
It's recommended to wait one hour for the atomizer to saturate before use. High viscosity oils may require longer.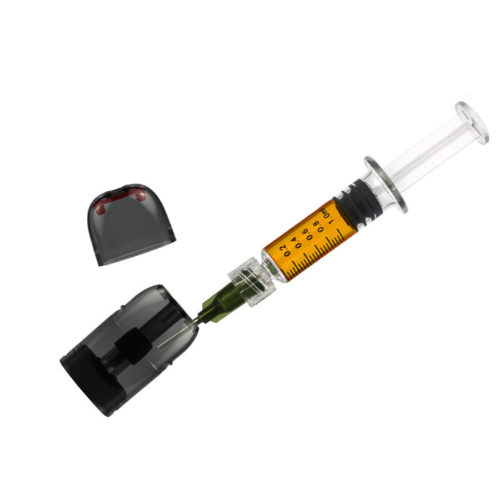 If you want more information on Maxcore or the products we offer, feel free to reach out to us. Customer service is a main priority at VPM, and we are here to help you in any way we can. We confidently guarantee happiness and satisfaction to all of our customers!
1
COMPATIBILITY GUARANTEED
The parts that fit. Not the parts that quit.
2
YOUR HAPPINESS GUARANTEED
Clouds out of your mouth not your ears
3
SHIPPING EVERYDAY BUT SUNDAY
Processed within 24 hours. Shippity-doo-dah!
4
TRACKING SENT TO YOUR EMAIL
That's just good manners.
5
DISCRETE SHIPPING AND BILLING
Mind your business nosey neighbors.
6
INTERNATIONAL SHIPPING
Because why shouldn't we?