iKrusher AB 1208 Battery with Oil Cartridge Cover
The iKrusher AB 1208 is a 510-threaded oil cartridge battery that features adjustable voltage, and an oil cartridge cover. The battery itself is button-activated, and comes with variable voltage. Change to your favorite heat setting with just 3 clicks of the button. This allows you to vape different consistency of oils, and to better control the strength of your hit. 
With the AB 1208, you'll be able to use just about any 510-threaded cartridge with them. We recommend checking out some of our iKrusher Cartridges. We carry the AC 1003 Oil Cartridge and the JC 105 Oil Cartridge, and the AC 1007 Oil Cartridge in .5ml and 1ml cartridges.  If you ever have questions on compatibility or product specifics, please don't hesitate to ask.
CARTRIDGE COVER 
There aren't many stick batteries out there that include a cartridge cover. Having a cover for your battery will help make sure you keep the oil secure, and reduce the damages of any impact in case it gets dropped. You're also less likely to have a stopped-up cartridge due to lint or other debris that falls in the mouthpiece. The cartridge cover also helps keep your vaporizer even more discrete.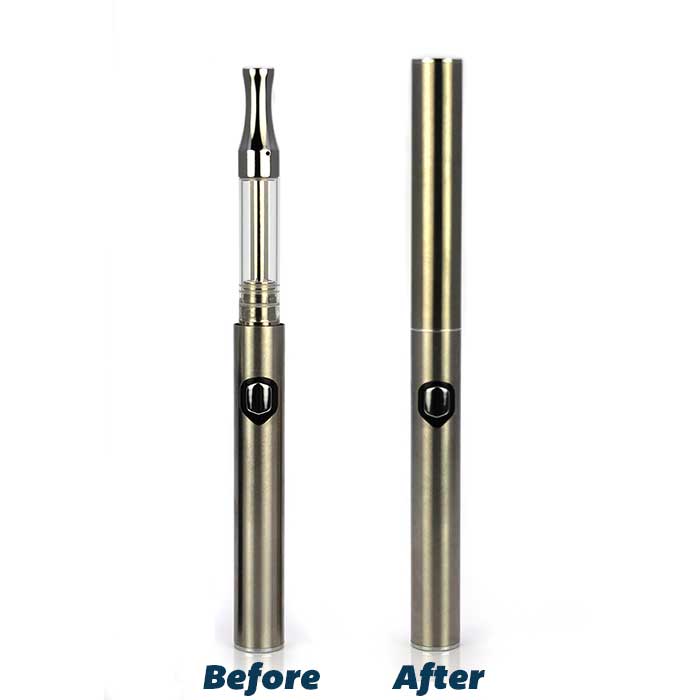 USING THE AB 1208 Battery 
To turn on/off, press the button 5 times fast. Press it 3 times fast to change voltage settings:

Red= 2.8V
Blue= 3.3V
Green= 3.8V
The battery also includes a micro USB Charger.
AB1208 Battery Specs: