The Ripper 4 Piece Herb Grinder
Introducing the all new Ripper 4 Piece Herb Grinder. It is constructed 100% from the finest stainless steel on the market, and is designed to be the toughest grinder on the market with the best grip and grind available. This is the last grinder you will ever need to own!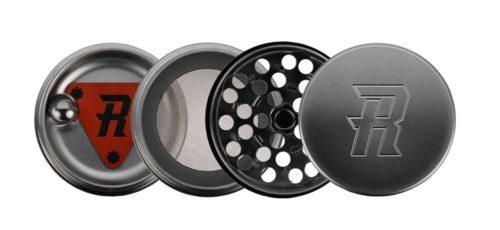 The Ripper Premium Features
The standard herb grinder is made primarily of aluminum or plastic which gives you a cheap like feel when processing your flower. With The Ripper 4 piece herb grinder you will be able to feel the quality with each twist.
• The Strong magnetized lid means you will never have to worry about the lid popping off and spilling your precious contents. Please keep in mind the magnetized seal is very strong.
• It has Razor sharp teeth! Sharp teeth are common in the grinder world but you have never seen teeth like this before. Ripper has designed a sharp edge on all cutting surfaces. These edges are precisely milled from stainless steel and will stay sharp for the life of the grinder. Each tooth even has a sharp cutting edge on the top which will start the cutting process prior to your first turn. Sharp grinding teeth will allow for quick and effortless grinding of your product.
• Medium size sifting screens are included with your Ripper grinder from VPM. Large and fine screens are available separately. We feel the medium screen is perfect to catch the proper amount of pollen desired. All Herb Ripper screens can be easily removed for cleaning and replacement with the included pliers.
• Unique Pollen catcher with included ball bearing and scraper tool. The pollen that falls through the screens is the desired product. Our ball bearing inside will help knock down the pollen to be collected at the bottom of the grinder.
• Included pollen scraper. The bottom of The Ripper 4 Piece Herb Grinder has smooth corners with a large radius that allows our scraper to perfectly scrape out every last bit of the best pollen.
The Ripper 4 Piece Herb Grinder VPM Review
This grinder is the most well made grinder available on the market. The grinder is very heavy and gives you an incredible feel in your hands. It truly grids to any consistency you desire in less than a minute. Watch your fingers, the magnetized lid makes a great strong connection. Hopefully this will be the last grinder you will ever need to own.  The Ripper Herb Grinder makes an excellent addition to any dry herb vaporizer.
1
COMPATIBILITY GUARANTEED
The parts that fit. Not the parts that quit.
2
YOUR HAPPINESS GUARANTEED
Clouds out of your mouth not your ears
3
SHIPPING EVERYDAY BUT SUNDAY
Processed within 24 hours. Shippity-doo-dah!
4
TRACKING SENT TO YOUR EMAIL
That's just good manners.
5
DISCRETE SHIPPING AND BILLING
Mind your business nosey neighbors.
6
INTERNATIONAL SHIPPING
Because why shouldn't we?