XMax Starry Dry Herb Vaporizer
XMax Starry 4.0 Upgrades
The significant upgrades introduced in the XMax Starry 4 make it the clear choice over the Starry 3. One of the most critical upgrades includes adjustable airflow. This feature allows users to personalize their vape experience. The new Starry 4 vape has a more robust ceramic heating oven and was designed to eliminate temp sensor errors. The new heating chamber also ensures consistent and even heating. The enhanced battery cap features a flip design. It addresses breakage issues experienced with previous models and optimizes battery replacement efficiency. The innovative mouthpiece tip makes disassembly and cleaning easier. The creative ceramic airpath provides smoother and more cool vapor output. Multiple session options are available on the starry, including four, six, or ten-minute sessions. Lastly, the updated design reflects modern aesthetics and will make an attractive addition to any stoner's collection. Furthermore, it comes equipped with Type-C charging port compatibility and a USB-C charging cable. The OLED display rotation functionality makes it highly user-friendly and easy to read from any position.
Read More about the differences between the Starry 3.0 and the Starry 4 below under the Product Details section.
– – – – – – – – –
The XMax Starry 3.0 is a quality & compact vaporizer designed specifically for use with dried herbs. You can use the built-in digital screen to easily view and adjust the heat to your desired temperature. Top features include:
Starry 3.0 vs. Starry 4.0
Alongside these incredible updates, the new model retains beloved qualities from its predecessor. These include the high-quality heat flow management system, retractable magnetic mouthpiece capabilities, pass-through ability allowing usage while charging, and user-removable 18650 batteries.
What's in the Box?
When purchasing this advanced yet affordable dry herb vaporizer from VPM, you can expect to receive everything you need for an unparalleled vape experience. The package includes the XMax Starry 4 vaporizer itself, a USB-C charger, a dosing capsule, cleaning and packing tools, and a mouthpiece accessories kit. The kit comes complete with cotton swabs and alcohol pads. In addition, there is a comprehensive user manual included for your convenience. All these components come standard in quality retail packaging.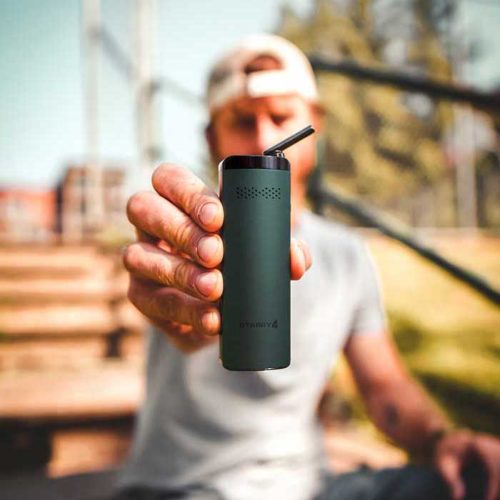 Elevate Your Vaping Experience with an XMax Starry 4.0
Don't miss out on your chance to upgrade your current vaping setup or treat someone special in your life! The XMax Starry 4 Vaporizer offers power, style, and numerous cutting-edge features designed specifically for dry herb vaping. Gear up for an unmatched portable dry herb vaping experience that sets new standards of excellence when you buy the XMax Starry 4 today. Visit VPM.com now to order this flower vaporizer.
Accessories Compatible with both XMax Starry 4.0 and 3.0
XMax Starry Glass Water Tip Adapter
XMax Starry Glass Water Bubbler
Accessories Compatible with the Starry 3.0 Only
Starry 3.0 Mouthpiece Top Replacement
XMAX Starry 3.0 Vaporizer | Portable Dry Herb Vape
The Starry 3.0 is a popular choice among many dry herb vape users today. It features some modern improvements over some competitors in the industry. One of the strongest selling points for the XMAX Starry 3.0 Vaporizer is the price point, available exclusively at  VPM.COM for under $100. Furthermore, the Starry is one of the highest quality and feature packed dry herb vapes when considering its affordable price point.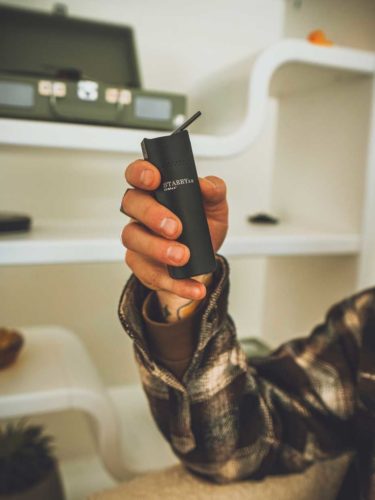 XMax Starry 3.0 Heat Flow
First of all, XVAPE designed the XMAX Starry 3.0 is provide for the best possible heat flow. To achieve this goal the came up with a new oval shaped heating chamber. It is made from 100% high quality, food-grade ceramic. The chamber design forces the air to be evenly distributed around the dry herb inside the vaporizer. This will help to release any naturally occurring medicine to be released from the herb without burning.
Mouthpiece
The mouthpiece on the XMAX Starry 3.0 Vaporizer is a really nice and retractable. It easily snaps open and shut thanks to built in magnets. Because of this feature you can simply snap the vape mouthpiece into position, heat the herb and enjoy.
Display Screen
Often-times you have to spend big to get a portable dry herbal vaporizer with a quality control screen. That is not the case with the XMAX (XVape) Starry 3.0 Vaporizer. It has an awesome built in screen made with the latest OLED technology. This great vape screen will allow you to easily adjust the temperature settings.
Charging your XMax Starry 3.0 Vaporizer
When it comes time to charge your new vape pen, the XMAX Starry 3.0 makes it easy. It comes with a built in Micro-USB charging port. This is the same charging port that 50% of cell phones use. It is a very common charger and easy to replace. Luckily XVape thought ahead on this one and programed the XMax Starry 3.0 to allow for Pass-Through Charging. This means that you can use your portable vape while it is plugged into the charger!
XMax Starry 3.0 Vape Battery
One of my favorite features about the XMax Starry 3.0 Vaporizer is the user-removable battery. You can swap out a depleted vape battery for a freshly charged one in a matter of seconds.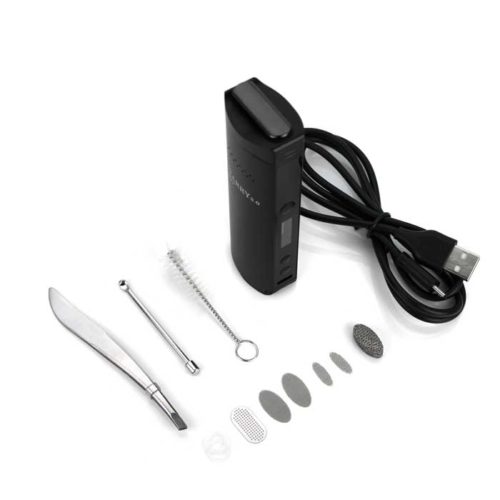 X-MAX Starry 3.0 Vaporizer Specs:
Height: 4.3" Tall
Width: 1.4" Wide
Depth: 0.9" Deep
Weight: 4.2 Ounces
Minimum Temp: 212 Degrees Farinheight
Maximum Temp: 464 Degrees Fahrenheit
Charging Type: Pass-Through
Charging Port: Micro USB
Warm-Up Time: 20 Seconds
Heating Chamber Material: Ceramic
Heating Chamber Shape: Ovular
Mouthpiece Style: Retractable
Brand of Battery: Samsung
Battery Spec: 2500Mah
Life Expectancy of Battery: 60 Minutes
Battery Technology: Lithium Ion
Display Type: OLED
Control Type: Digital
Exterior Materials: Plastic and Aluminum
Suggestions for Using the XMAX Starry 3.0 Vaporizer:
The XMAX Starry 3.0 portable dry herb vape works best with finely ground herbal products. We suggest using a highly quality herb grinder such as one of the Herb Ripper Grinder.  Make sure that you remove any twigs or plant parts that may be in your herb. Large items such as a stick or seed will cause the herb to heat unevenly thereby causing a less pleasant experience for the user.
Temperature
Set the vape temperature to a medium setting at first and then experiment to find your own preferred temp. We have been told that most people typically use a temp in the high 300's but each user must make that decision on their own. If the herb smells burnt, the temperature is probably too high.
Contact Us
If you have any questions about the XMAX Starry Vaporizer please contact one of our friendly representatives.