$119.95
Price Check
Flowermate V5 Nano Dry Herb Vaporizer
In Stock! We'll ship within 24 hours
The Flowermate V5 Nano is a high-quality vape valued for providing premium taste to your herb vaping experience. Made for both herb and wax use, its dual conduction/convection heating system enables you to have a thorough and tasty vape session. It's approved by multiple industry experts as a quality, great value, herbal vaporizer. The V5 features:
Conduction/Convection Hybrid heating
Removable 18650 Battery
30 second heat up time
Very small, pocketable
Wax and Herb Pods included
Flowermate V5 Nano Dry Herb Vaporizer
It's time for the dry herb vaporizer you've been waiting for! Introducing the Flowermate V5 Nano:
First off, it is portable (only 3" x 1.75"), and can fit into a pocket or carrying case (included). Next, it is easy to load with the magnetic attaching loading funnel which enables you to load the V5 Nano without losing your herbs. Additionally, the V5 Nano heating system brings you unrivaled flavors from your herbs. The Flowermate V5 Nano uses a dual conduction/convection heating system that is housed in a black ceramic atomizer chamber inside the vaporizer. This effective technology enables your V5 Nano a controllable heat range between 104º-446ºF (40º-230ºC) for your desired flavor.  Finally, the mouthpiece is removable, and can be stored inside the V5 Nano, or with all parts in the included Flowermate carrying pouch. You can count on the ultimate dry-herb vaping session with the Flowermate V5 Nano!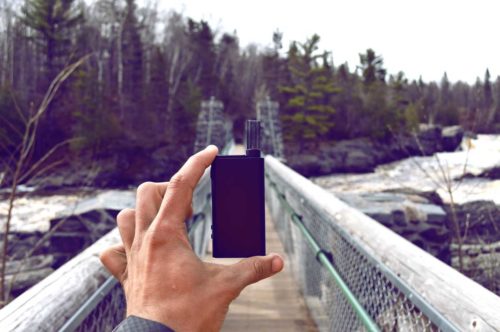 Features of the Flowermate V5 Nano:
The Magnetic Attaching Loading Funnel makes the V5 Nano incredibly user-friendly.
The OLED Display screen indicates temperature and readiness. In addition, the V5 Nano will vibrate once it reaches the desired temperature.
Improved vapor taste with the

Borosilicate Glass

Mouthpiece
Removable/Re-chargable battery

(18650 battery)

The kit includes Herb and Wax Pods
Flowermate Carrying Pouch included
The V5 Nano includes an herb and wax pod, a re-chargeable & removable battery (18650 battery), a Flowermate carrying pouch, dab/packing tool, cleaning brush, mesh screens, a usb charging cable, and an instruction manual in 7 languages.   
1 Year Warranty
You can feel safe with your equipment with the 1-year warranty by Flowermate. For support with Flowermate, feel free to reach out to their contact page.
How to use the Flowermate V5 Nano:
Keep anything you want/need in the Flowermate V5 Nano carrying bag (included with the kit)

First off, effortlessly connect the magnetic funnel to the vaporizer and load your flower into the chamber. Then, use the dab/packing tool to pack your herbs into the chamber, and screw on the V5 Nano Borosilicate Glass Mouthpiece.

Push main button 5x to turn on, and Allow 30 seconds to heat up. The V5 Nano will vibrate when it reaches the desired temperature. Also, the OLED screen will display an image once it is ready for use.

Use the smaller buttons under the display to adjust the heat to your desired temperature.

Enjoy your smoke session, and use as desired!

To clean, clear out the mouthpiece by blowing out any clogged herbs and use the brush to thoroughly clean out chamber and mouthpiece. 
Lastly, you will enjoy your vaping experience when you clean out your vaporizer after each use. The kit will include a brush that you can use to clean out the mouthpiece and chamber. After your sessions, you can store all of your equipment with your V5 Nano in the Flowermate case.
1
COMPATIBILITY GUARANTEED
The parts that fit. Not the parts that quit.
2
YOUR HAPPINESS GUARANTEED
Clouds out of your mouth not your ears
3
USA DELIVERY 2-4 BUSINESS DAYS
We trust the best to deliver on time.
4
TRACKING SENT TO YOUR EMAIL
That's just good manners.
5
DISCRETE SHIPPING AND BILLING
Mind your business nosey neighbors.
6
INTERNATIONAL SHIPPING
Because why shouldn't we?
7
SHIPPING EVERYDAY BUT SUNDAY
Rest on Sunday and all that jazz right?