From $159.95
Price Check
$199.95
Pax 3 Vaporizer
With its debut in 2012, Pax has become one of the world's most iconic vape brands thanks to a combination of its standout style and performance. The latest Pax 3 model continues on that foundation and is one of the best selling and most loved dry herb vaporizers in the industry. Put simply, Pax Packs a Punch—it's fast, flavorful, and easy to use.
Ultra-fast 15 to 20 second heat up time
Four adjustable temperature settings
Medical grade materials, polished aluminum body
Long-lasting battery for 8-10 sessions
Dual use, can be used with dry herbs or solid concentrates
Great for use at home or on the go
10-year warranty
The Pax 3 Basic Kit has everything needed to vape a full oven of dried herbs. If you want to vape solid concentrate or half-ovens, we recommend snagging the Complete Kit which includes 1) a concentrate insert 2) a half-pack oven lid 3) a multi-tool keychain 4) three extra oven screens
For a further breakdown of Complete Kit vs. Basic Kit, see "product details" below.
used for: herb
Complete Kit vs. Basic Kit
The Pax 3 Basic Kit has everything needed to vape a full oven of dried herbs. If you want to vape solid concentrate or half-ovens, we recommend snagging the complete kit which includes 1) a half-pack oven lid 2) concentrate insert 3) multi-tool keychain 4) 3 extra oven screens
COMPLETE & BASIC KIT INCLUDES:
Flat & Raised Mouthpiece (swap for your own comfort preference)
USB Charger (charging dock)
Maintenance Kit (for cleaning and maintaining Pax 3)
Standard Oven Lid (for full capacity pack)
COMPLETE KIT EXTRAS:
Half-Pack Oven Lid (for when you want a quick session, using less material)
Concentrate Insert (for use with solid or waxy concentrates – not for oil)
Multi-Tool Keychain (for packing, tamping, stirring, cleaning)
3 Extra Oven Screens (as back up replacements)
Cloth carrying Pouch (keeps the Pax 3 protected when you're on the go)
To recap, the Basic Kit has everything you need to get to vaping. If you want to upgrade or be more versatile with your experience, the Complete Kit includes extra goodies for just an additional $50 (value of $83).
About the Pax 3
The Pax 3 is one of the most loved dry herb vaporizers on the market and is among the most portable and pocket-friendly options as well. Pax has earned its reputation for excellence thanks to all medical-grade materials, including an aluminum alloy polished body and stainless steel air-path. The Pax 3 is the predecessor to the all-new Pax Plus vaporizer.
The Pax 3 is a conduction heating vaporizer, meaning that the walls of the oven are what heats up (rather than a heating element below the oven) and this results in a very user friendly experience that is ideal for beginners.
The Pax 3 is designed specifically for the connoisseur of dried herbs, but if you're interested in concentrate consumption then the Pax 3 Complete Kit includes a concentrate insert for the oven which will produce tasty clouds of vapor from solid / waxy concentrates. Liquid concentrates like oil is not recommended for the Pax 3.
The device uses lip and motion sensors that automagically raises the temperature of the oven when you sip on the Pax and cools when not in use which results in amazing flavor while simultaneously reducing waste. In other words, the oven heats only when it needs to based on your behavior rather than always remaining hot during your entire session.
The Pax has four LED light "pedals" on the front of the device that communicates any information you need to know such as battery level, temperature, and when the device is heating and ready to rip.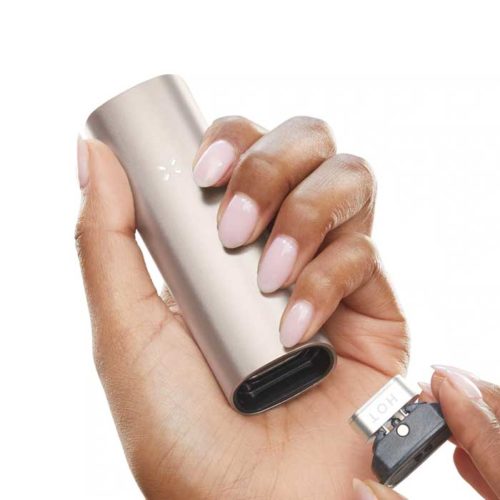 Why buy Pax from VPM.com?
With nearly a decade of service in the cannabis vape industry, VPM has built a reputation of offering some of the best products and service in the industry. All VPM products are authentic (directly from the manufacturer), we process all orders within 24 hours, and we have friendly and helpful staff ready to assist should you ever want to contact us. Thank you for allowing us to serve you!
Additional Pax Products
Pax is one of our best-selling cannabis vape brands. Check out the new Pax PLus and Pax Mini if you are a fan of vaping flower. If you prefer to vape oil, you might be interested in the Pax Era Pro or Pax Era Life.
1
COMPATIBILITY GUARANTEED
The parts that fit. Not the parts that quit.
2
YOUR HAPPINESS GUARANTEED
Clouds out of your mouth not your ears
3
SHIPPING EVERYDAY BUT SUNDAY
Processed within 24 hours. Shippity-doo-dah!
4
TRACKING SENT TO YOUR EMAIL
That's just good manners.
5
DISCRETE SHIPPING AND BILLING
Mind your business nosey neighbors.
6
INTERNATIONAL SHIPPING
Because why shouldn't we?