Price Check
$75.00
2020 DynaVap M
Only 1 left! We'll ship within 24 hours
The 2020 DynaVap M dry herb vaporizer continues on the phenomenal foundation laid by the previous DynaVap M. Fantastic engineering, attention to detail, remarkable performance, simple operation and great value!
Stainless Steel Vaporizer, made in America
Works with torch lighter, no batteries needed
Adjust-a-Bowl (adjustable bowl size)
Captive Cap (Cap will not spin or fall off)
used for: herb
DynaVap M – 2020
Looking for a unique dry herb vaporizer that doesn't need to be charged? The 2020 DynaVap M is a completely manual, dry-herb vaporizer that calls for a butane lighter as its main power source. This device is exceptionally engineered to be aerodynamically complex, yet its simplicity resembles that of a one-hitter. See the info below for how to use this unique vaporizer- once learned, it's easy to master.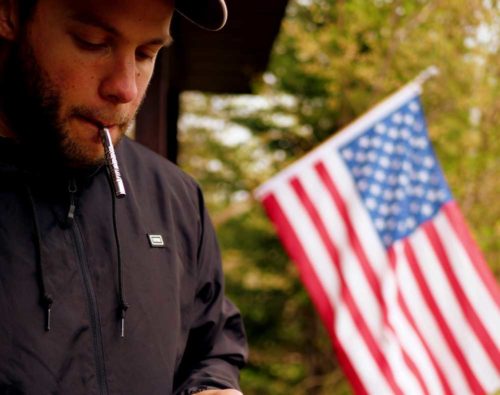 Why the DynaVap M
Some consumers are looking to make a transition away from using batteries and cartridges to a more natural way to vaporize dry-herbs. The DynaVap Line is built with materials that will last forever, they never need to be charged, and you will avoid inhaling paper residue or any harmful metals.
The DynaVap M is a great product to start with if you are hoping to ease into this fantastic line of vaporizers. A wonderful thing about DynaVap is that some of the parts are interchangeable, so you can use your DynaVap Cap and Screens with any of your various DynaVap vaporizers. Click HERE for a compatibility chart.
If you are new to a DynaVap product, check out the DynaVap M Starter Pack for a collection of useful accessories and tools for your use.
2020 DynaVap Changes
Building on the success of the first DynaVap M, DynaVap has made a few changes. They have modified the body to add additional thin strips for improved texture and grip.  Included is the DynaVap Cap.  The Cap is what will "click" when the appropriate temperature is met.  The Cap can be heated in different regions and depending on where the heat is applied you will be able to choose your temperature preference from 300-450 degrees.  Designed to never wear out however you can damage it if you overheat your device.  If you loose or damage your cap we sell also carry the replacements.
The air ports have been enlarged and made more prominent with lager grooves. Redesigned stainless steel tip for improved performance. The tip no features machined serpentine helix grooves allowing for increased airflow. With the addition of sleeker and thinner fins the "M" can now offer quicker heat up and cool down times.
Proudly manufactured in the USA. Full stainless steel construction ensure this to be one of the highest quality vaporizers available. Small, portable, and nearly indestructible.
All DynaVap product is unique in the fact that they do not need any batteries or cables only a small torch or lighter will do the trick. No more waiting for your device to heat up. Apply the instant heat from a butane lighter or torch, and you will have instant vape clouds.
Key Features
Small and portable
No batteries needed
Works With torch or butane lighter
Total Length – 92mm
Weight – 20g
Construction – Stainless Steel
Upgrade your "M"
If you would like to upgrade or customize your M vaporizer, the M is compatible with many parts from the Omni series.  For your convenience DynaVap has put together this DynaVap Compatibility Chart.
How to Use the Dynavap M
Using a DynaVap vaporizer is very simple, but different than operating many other vaporizers. Follow these important steps so you don't damage your DynaVap or yourself, and get the best use out of this vaporizer. For visuals, please see the Dynavap Use & Care guide below:
Fill the Dynavap by taking the cap off and placing the end in your ground herbs.

 

Once loaded, make sure the herbs are flush inside your DynaVap and replace the cap.
Use a butane lighter or torch to light the cap. Rotate the DynaVap to allow the flame to heat the evenly throughout the cap. As soon as you hear the click, stop heating as your Dynavap is ready to use. It is recommended to use a triple-flame, butane lighter when starting out.
Once the Dynavap cools enough (approx. 30 seconds), it will click again to indicate that is cool enough to be heated up again or put away for storage.
Dynavap M Use & Care Guide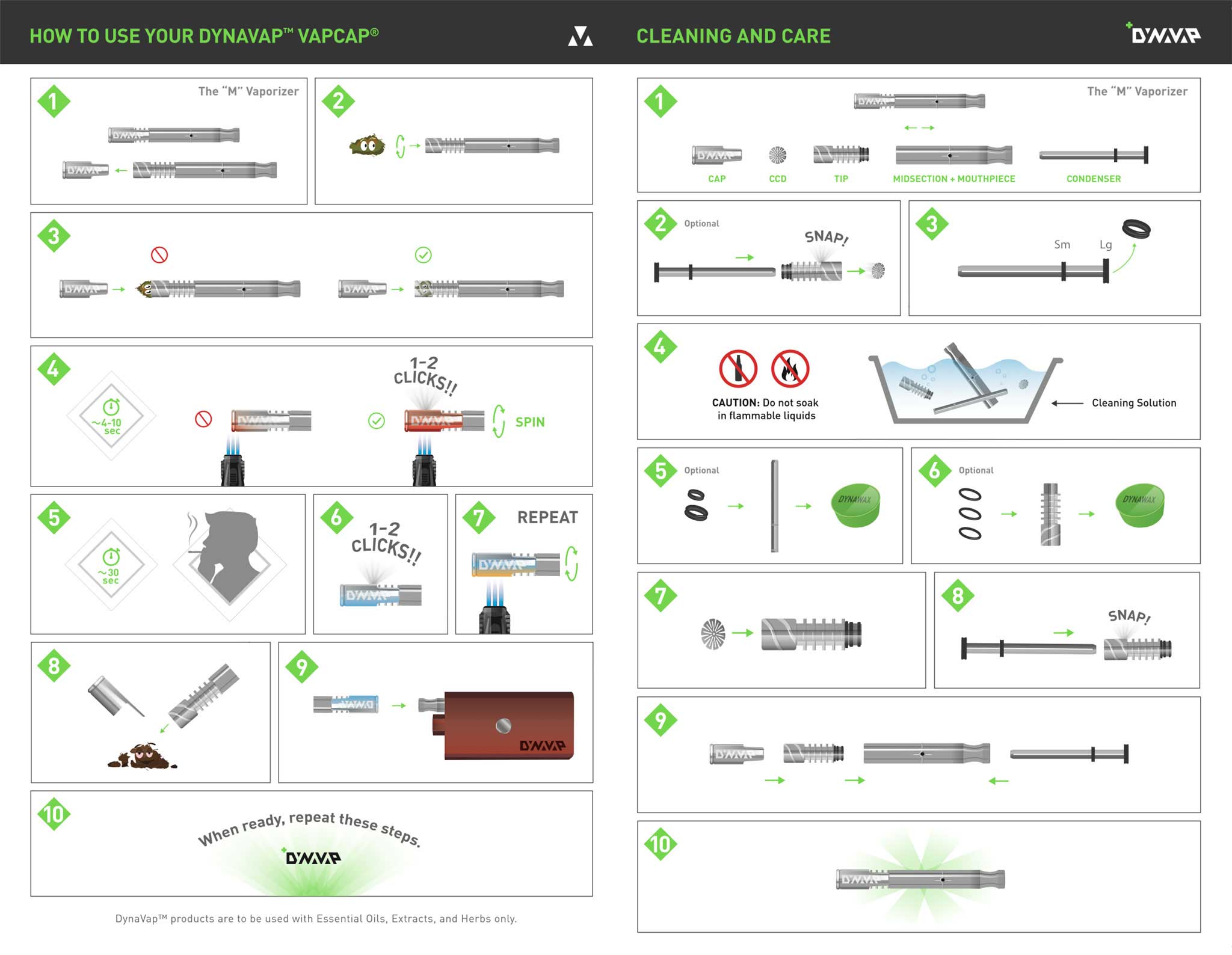 1
COMPATIBILITY GUARANTEED
The parts that fit. Not the parts that quit.
2
YOUR HAPPINESS GUARANTEED
Clouds out of your mouth not your ears
3
SHIPPING EVERYDAY BUT SUNDAY
Processed within 24 hours. Shippity-doo-dah!
4
TRACKING SENT TO YOUR EMAIL
That's just good manners.
5
DISCRETE SHIPPING AND BILLING
Mind your business nosey neighbors.
6
INTERNATIONAL SHIPPING
Because why shouldn't we?