Postless Disposable All-In-One Vape Pens
What's a postless disposable? You guessed it! A postless disposable vape pen (also known as an all-in-one) is a single use and ready-to-use device.
What makes postless disposables unique is that there's no metal central post obstructing the view of your precious oil.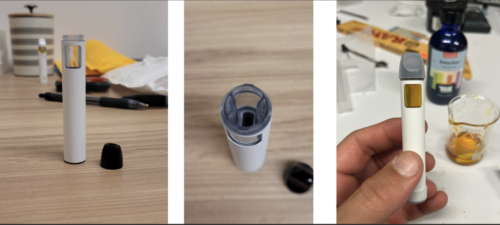 Full features of Postless Disposables
– "bucket" style tank (all oil travels down to the heating element at the absolute base)
– wickless (there's no cotton or fibers around the atomizer that can burn)
– no metals in contact with the oil (no chance of heavy metals test failure)
– "postless" – no central post, clear view window
– large window to show off your oil
– we can adjust voltage and resistance to perform best with your oil
– giant filling hole, super easy to fill
– possibly the best part… affordable pricing
The best disposable vape
In our opinion, postless disposable vape pens are the best disposable all-in-one options on the market. Combining wickless, postless, and buckets style features into one unit makes "postless" the frontrunner in the disposable market.