XMax V3 Pro Dry Herb Convection Vaporizer
The XMax V3 Pro is a feature packed, portable dry herb vaporizer that uses fully convection heating technology and is quickly becoming our favorite dry herb vaporizer. Specs include:
0.2g – 0.3g Chamber Capacity
Battery Capacity:  18650 3.7V 2600mAh
Working Voltage: 3.2-4.2V
Click the button 3 times consecutively to turn it On/Off
Temperature Range: 212°F-428°F (100°C-220°C)
Oven Material: Stainless Steel
Display Screen: OLED
Session Time = 4 minutes & 6 minutes
On-demand Single Holding Time: 30 seconds
Dimensions = 1.05 x 0.94 x 5.91 inches
The full V3 Pro User manual can be found here. 
Our commitment to you
Dealing with the manufacturer is rarely a positive experience for customers. That's why we are committed to working on your behalf should any warranty issue arise with your V3 Pro.
Please reach out to us at [email protected] and we will handle your warranty concerns within 24 hours. 
Note: the warranty covers the electronic base. The warranty does not cover the mouthpiece, battery cell, scraping tool and/or other detachable parts which under normal use may require replacement. Replacement parts for the V3 Pro can be affordably purchased here at VPM.com.
V3 Pro Vape Kit Contents
V3 Pro Device (vape body, 18650 battery, mouthpiece)
Isopropyl alcohol wipes for cleaning the chamber
Q-tips and cleaning brush
Concentrate "pod" (fits into chamber for concentrate use)
USB-C charging cable
V3 Pro instruction manual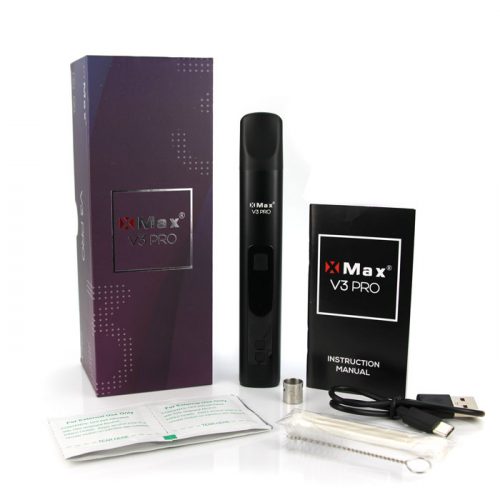 Pocket-friendly
The V3 Pro is a highly portable device that can be taken anywhere life takes you. It fits well in the hand, in the purse, or in the pocket. See the size reference next to the lighter below: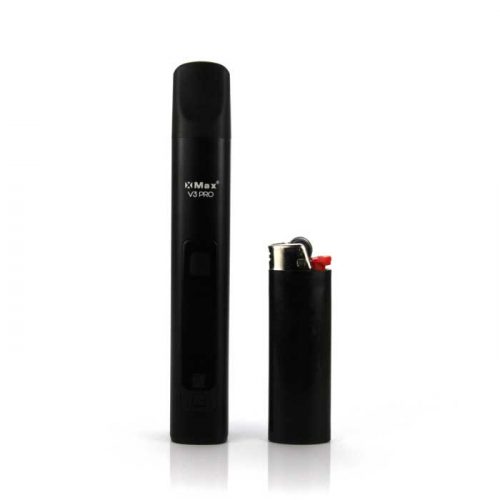 XMax V3 Pro Accessories and Parts
VPM is your best source for authentic XMax V3 Pro accessories and parts. We carry everything you need to keep your V3 Pro running and looking its finest.
The most popular XMax V3 Pro accessory we sell is the XMax V3 Pro Dosing Capsule. This nifty little accessory will allow you to pre-load your herb for later use. Often when traveling, people like to take a handful of filled V3 Dosing capsules so they can easily toke them on the go without having to worry about grinding and loading before each use. The XMax V3 Pro Dosing Capsule is available for sale from VPM.com as either a single item or a five-pack. If you purchase the five-pack, you save 25% off the price of just a single dosing capsule. The dosing capsule can hold approximately 0.2 grams of flower.
The heating chamber on the XMax V3 Pro has a capacity of 1.09ML which equates to about 0.2 or 0.3 grams of ground flower.
The second most popular V3 Pro accessory is the Concentrate Cup. When you buy the XMax V3 Pro Concentrate Cup, it will allow you to vape herb with your device and concentrate such as wax or shatter.
If you are interested in using your V3 Pro with a bong or rig, you might want to check out the XMax V3 Pro Glass Water Pipe Adapter. This excellent little accessory replaces the mouthpiece on your herbal vaporizer and turns it into a male adapter that will pair perfectly with your bong's female downstem. There isn't a more refreshing way to use the V3 Pro than pairing it with a nice glass bong.
If you like the water-cooled effects of a bong but want to vape on the go, we recommend purchasing the XMax V3 Pro Water Bubbler. This acts as a combination of a glass mouthpiece and a miniature bubbler. It's easy to use and convenient for on-the-go vaping.
Perhaps you enjoy using a glass piece but don't want to deal with having to fill a bubbler? If that describes you, take a look at the very popular XMax V3 Pro Glass Mouthpiece. This authentic part quickly and easily replaces the standard plastic mouthpiece with a nice glass mouthpiece. Most people that have used the glass mouthpiece give it rave reviews!
This is just a small sampling of all of the XMax V3 Pro Accessories for sale at VPM, be sure to check out our complete list of available parts and accessories to ensure you have everything you need to customize your vaping experience. 
VPM is Here to Help
If you have any questions regarding the V3 Pro or any of our product offerings, please reach out to us at any time. We look forward to hearing from you, and it's a pleasure to serve you.