Maxcore Color Disposable Oil Pen
Disposable Oil Pens are a special breed of vape pen battery, and certainly worth trying out. They offer a few benefits over other oil pens, in regards to charging, tasting, and sharing products.
Dispensaries, and others making their own oil blends benefit from a disposable oil pen. You can easily fill them for taste testing and for sharing with others. If you have a new oil blend you are wanting to share, give it to them in the Maxcore Color. The look and feel is sleek and presentable, and they are incredibly affordable.
The Maxcore Color is small and thin in appearance, similar to that of an e-cig. Once capped, it cannot be reopened, making it look different than other vape pen batteries.
These disposables come pre-charged for and ready to go, simply fill, cap, and inhale. They are a great option if you have an event or short trip where you don't want to mess with multiple vape parts. The "oil-droplet" view window, gives you an idea of how much oil you have left.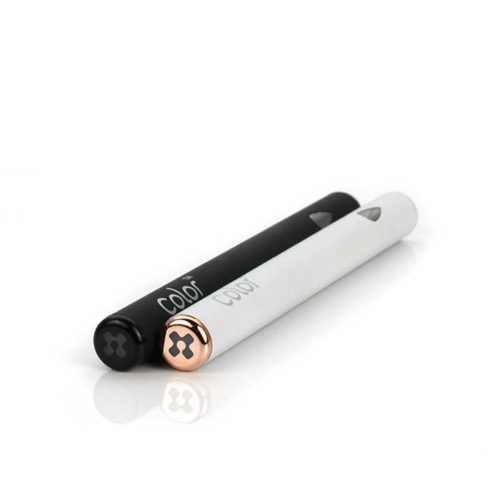 Maxcore Color Filling And Assembly Instructions
Insert a blunt tipped needle between the outside wall and center internal post holding the Color upright. Fill the tank with no more than 0.5ml of oil. Do not overfill, and do not allow oil to enter the center airway.
Immediately after filling, insert and press the mouthpiece until it is fully sealed. Failure to insert the mouthpiece immediately may cause leakage.
It's recommended to wait 1 hour the atomizer to saturate before use. High viscosity oils may take longer.
Once the Color is capped, it cannot be uncapped.