Description
Honeycomb Vaporizer Pen Glass Screen for Atmos Raw and Ago G5
Before we start reading, watch this glass screen burn right though a plastic bag!
 What do Atmos Raw and Ago G5 pen glass screens do?
Allow for less burning and more vaping
Suspends material above heating coils to reduce combustion
Protects delicate heating coils from gunk and debris
Withstands hot temperatures if they are made of real glass
Vaporizer glass filters will allow for smoother airflow from the Ceramic Heating Chamber to the Rubber Mouthpiece. Fitting directly into the heating chamber, this filter is designed to rest on top of the heating coil to prevent material from coming in contact with the hot coil. This will result in a decrease in combustion and greater amounts of vapor. Vaporizer Pen Glass Screens are also designed to cool air before passing to the mouthpiece, preventing excessive heat from entering your mouth. These 7mm diameter glass filters fit most herbal Vaporizers like the Atmos Raw, Ago G5, Atmos Junior, Atmos Jewel, Ago G5 Junior, Vapormax, and more! Larger 9mm diameter glass filters will fit perfectly into larger chambers such as the tank for Snoop Dogg G Pen Coil Replacement.
Customers have reported that honeycomb glass vaporizer screens over 1mm thick  are too thick for proper use. It is important that your glass screen is not too thick or too thin in order to find the proper balance of heat to produce vapor. We have found that .7mm thick glass filters are too thin, resulting in the transfer of too much heat and over combustion of herbs. Honeycomb glass filters thicker than 1mm in width tend to be too thick for enough heat to transfer.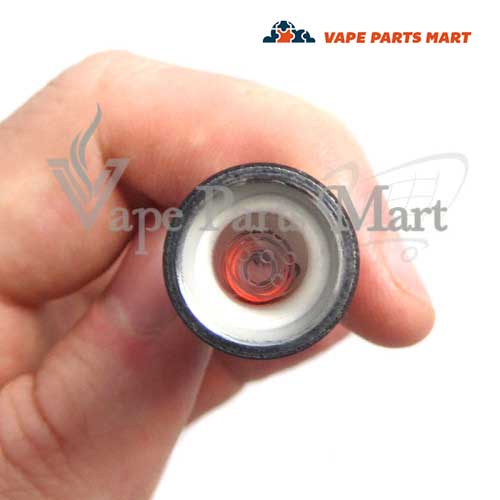 Real Glass can withstand hot temperatures
Some Tips and tricks
If you are finding that your herbs are not vaporizing well, it is best to finely grind your herbs. Finely grinding the herbs will allow the heat to transfer through the screen and more uniformly distribute that heat to the herb. This will facilitate the production of greater amounts of true vapor because the heat is in contact with more of the herb.
All vaporizer pen batteries have an automatic shutoff after about seven seconds of continuous power. If your coil is functioning properly there should be plenty of heat transferring through the screen, but if you want higher heat you can bypass the battery's auto shutoff. You can do this by pulsing the battery's power button, not quite allowing the battery to reach its shutoff point. If you do this 2-3 times, you'll find that your herbal chamber gets very hot!
If you are finding that your vaporizer pen glass screens are overly combusting your herb, the Vape Vet recommends doubling or even tripling your screens. Using extra pieces will increase the distance between the coil and herb to limit the heat. You can adjust the amount accordingly to your preference.
Another thing to keep in mind is that the goal with any honeycomb glass screen like an Atmos vaporizer glass filter screen is to produce less smoke and more vapor. Don't be alarmed if you see less amounts of smoke, give it some time to feel the effects you're looking for!
Compatible Units
Atmos Raw Glass Screen
The 7mm honeycomb vaporizer glass filter was specifically designed for the diameter of the Atmos Raw. You will find that there is very little wiggle room between the filter and the outer wall of the chamber.
Atmos Junior Glass Screen
Glass filter screens for the Atmos Junior are also meant to be 7mm in diameter. The chamber of the Atmos Jr. or Ago G5 Jr. is slightly shorter than the chambers of the Atmos Raw or Ago G5, but they share the same diameter.
Atmos Jewel Glass Screen
This is also a great glass screen for Atmos Jewel. As you may have seen in the video above, there is slightly more wiggle room between the filter and the chamber's outer wall as compared to the Atmos Raw or Ago G5, but customer's have reported being please with its compatibility with the Atmos Jewel.
Ago G5 Glass Screen
Like the Atmos Raw glass screen, this 7mm glass filter is specifically designed for the diameter of the Ago G5 chambers. Simply slide the filter in and you will see very little room between the filter and the chamber's outer walls.
In conclusion
Glass screens vaporizer screens are the best screens on the market to reduce combustion and burning in your vaporizer pen. There's little downside to using these other than the breakable nature of them. Heat alone should not crack the glass but be careful loading and unloading them. With proper care and usage you'll be enjoying your newly modified vaporizer with reduced combustion!
How are you liking your glass screens? Join the discussion by writing a review above!